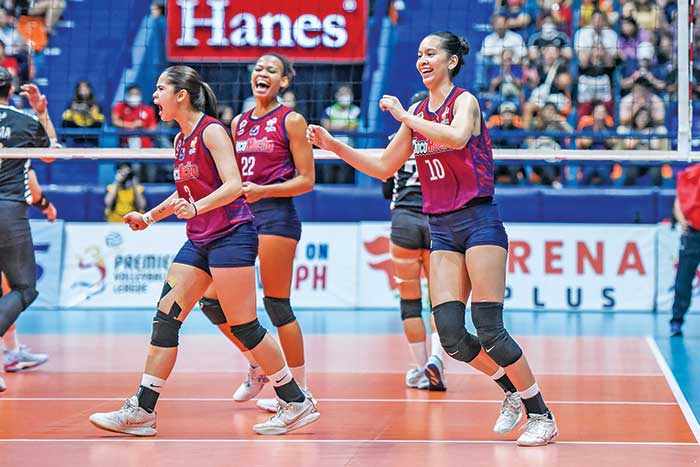 By Leobert Julian A. de la Peña
The Choco Mucho Flying Titans heated up in the last three sets to repel the Petro Gazz Angels, 18-25, 25-23, 25-15, 25-16, and racked its sixth-straight Premier Volleyball League (PVL) All-Filipino Conference win last November 16, 2023, held at the FilOil EcoOil Centre.
After a shaky start for the Flying Titans which was quickly capitalized by Petro Gazz, the waxing-hot squad turned it up in the last three sets to complete the impressive reverse sweep.
The dynamic offensive duo of Jonah Sabete and Gretchel Soltones worked hand-in-hand to give Petro Gazz an early 1-0 advantage but the Flying Titans buckled to work early in the second set to get back on track.
Sisi Rondina continued her explosive outing for Choco Mucho and spearheaded another momentum-clinching offensive run midway through the second set that sparked their efficiency on both ends.
Kat Tolentino then joined the party and backstopped Rondina in the most crucial stretch of the second set to equalize the affair at 1-1.
The Flying Titans then picked up where they left off and started to execute their signature offensive spike plays to Tolentino and Rondina who were just unstoppable.
Aside from them picking up their scoring, Choco Mucho also relied on their improved floor defense led by Thang Ponce who tallied 20 excellent digs and nine excellent receptions.
It was Ponce's defensive prowess that sparked Choco Mucho's insane turn-around in the last three sets, covering the Flying Titans' area well while also receiving the ball efficiently.
Petro Gazz unfortunately went cold on the offensive end, scoring only 15 and 16 points in the second and third set, respectively.
Rondina led the way for the Flying Titans with 17 big points built from 15 successful attacks while Tolentino chipped in 13 markers.
Choco Mucho will look to earn their seventh consecutive win on November 21, 2023, as they set up a fiery clash with the F2 Logistics Cargo Movers while the Angels seek to bounce back against the Farm Fresh Foxies on the same game date.