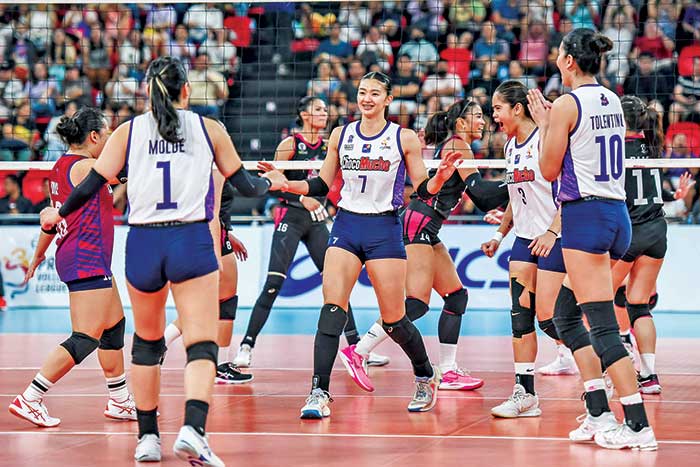 By Leobert Julian A. de la Peña
The Choco Mucho Flying Titans reached its peak in the most perfect time after sweeping the Akari Chargers, 25-23, 25-21, 25-19, in the ongoing Premier Volleyball League (PVL) All-Filipino Conference last November 11, 2023, held at the Philsports Arena.
After opening their season with a quick loss two weeks ago, the Flying Titans embraced that reality check and has been undefeated in their last five games.
The duo of Isa Molde and Maddie Madayag proved to be too much for the Chargers as the tandem scored 13 points each for Choco Mucho.
Both young stars took turns extinguishing the fire that Akari sparked when they made several mini-offensive runs in the first two sets.
It was a thrilling start in the game as Akari kept it close in the first 30 minutes courtesy of the much-needed scoring from veteran outside hitter Dindin Santiago-Manabat.
The former Philippine team staple member answered every Choco Mucho point by herself but the roster depth the Flying Titans had helped them escape the tough challenge from Akari.
Akari did a decent job defensively to keep up with Choco Mucho in the second set but a late scoring flurry from Kat Tolentino and Molde spearheaded the Flying Titans' offensive burst.
It was then all Choco Mucho in the third and final set as star setter Deanna Wong orchestrated a flawless frame, feeding her confident spikers at will to finish the game in three periods.
Tolentino backstopped Molde and Madayag with 11 points built from 11 successful attacks alongside nine excellent digs.
Meanwhile, Sisi Rondina had a quiet game but still let her presence felt with 11 markers and 11 excellent receptions.
The Flying Titans will look to clinch their sixth straight victory when they square off with the Petro Gazz Angels on November 16, 2023.