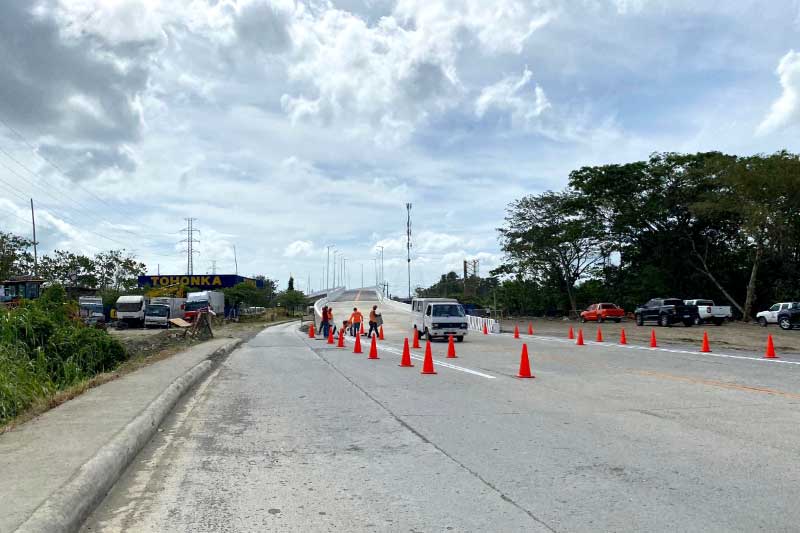 By Joseph Bernard A. Marzan
Public Safety and Transportation Management Office (PSTMO) chief Jeck Conlu on Monday questioned a new ordinance passed by the Sangguniang Panlungsod placing maximum load capacities on the Buhang Flyover in Jaro district, citing lack of consultation with his office.
Conlu told the media that PSTMO had been receiving complaints from truckers traversing the President Corazon Aquino Avenue (Circumferential Road) of their intention to use the Buhang Flyover.
The avenue is commonly used by trucks carrying goods from the Iloilo Commercial Port Complex to industrial facilities on the outskirts of Iloilo City.
"They were hoping that with the flyover, they can use it for their and their cargo's convenience […] because [the Corazon Aquino Avenue] leads up to our international ports," Conlu said.
The Buhang flyover, which straddles the intersection of the Corazon Aquino Avenue and the Iloilo-Capiz East Coast Road, has a barrier arch that indicates vertical clearance, but truckers said they cannot use the road underneath due to ongoing works.
"They cannot pass through [the flyover] because of the barrier which would snag their cargo boxes, so they use [the road] under [the flyover], but the problem with the road is that it's not in good condition which misaligns the trucks and makes them lean out of the flyover," Conlu added.
Conlus said the ordinance mandated the PSTMO to enforce its provisions, but they were not invited to any of the discussions nor the joint hearing conducted by the city council's committees on Engineering, Construction, and Public Works and Transportation in June.
"We were surprised [to learn that] we would be the one implementing [the ordinance] because we were not invited during the committee hearing when this ordinance was put forward, placing a load limit on the Buhang Flyover. I could not recall any invitation forwarded to us in conducting a committee hearing in placing load limits and implementing [this] for the flyovers," he added.
Under the ordinance initially proposed by the Department of Public Works and Highways (DPWH), which was approved by the city council in July, only tri-axle vehicles with a maximum load limit of 27 tons may pass through the flyover.
In its dry-run of the Buhang Flyover in end-March 2023, DPWH-Iloilo City District Engineering Office banned trucks, motorcycles, and tricycles from using the flyover.
DPWH-Western Visayas Assistant Regional Director Jose Al Fruto told Aksyon Radyo Iloilo back on April 1 that the Buhang Flyover's design did not allow heavy trucks to pass to prevent overloading.