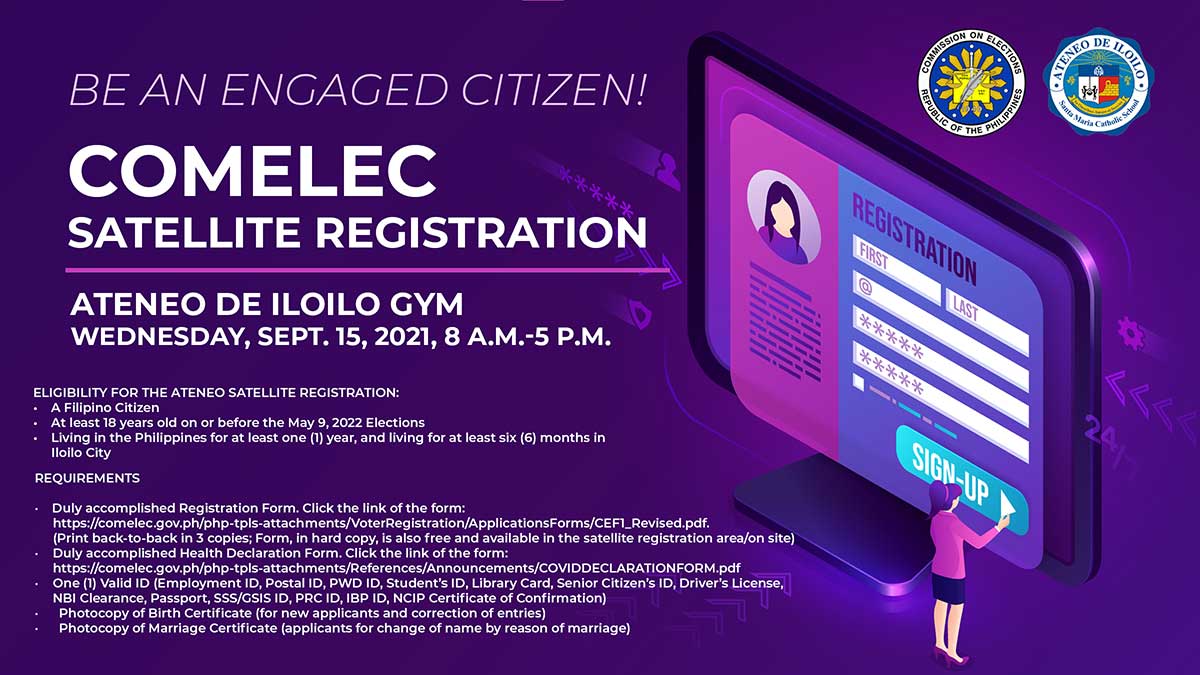 By Rhystille Anne Jacones and Seana Christel Tura
ILOILO CITY – The Commission on Elections (COMELEC) Iloilo City Office will have Ateneo de Iloilo-Santa Maria Catholic School (ADI-SMCS) Chusuey Gym as its satellite area for the voters' registration on Wednesday, September 15.
Iloilo City COMELEC Officer Atty. Reinier Layson confirmed this after conferring with the school officials headed by Fr. Joseph Raymund Patrick Sanchez, SJ, last September 7.
In the pre-site inspection meeting, Fr. Sanchez highlighted the school's social responsibility in promoting voters' registration, awareness, and empowerment towards "engaged citizenship."
"We find the place ideal for our voters' registration due to its wide open space, well-ventilated area, and supportive community," Atty. Layson said, adding, "we plan to bring all our computer sets and staff in Ateneo as we hope to accommodate about 500 or more interested and eligible registrants from all over the seven districts of the city."
The Ateneo satellite registration venue is also used as one of the current vaccination sites of the city government.
ADI-SMCS Principal Dr. Herman Lagon has also extended his invitation to all eligible Ateneans and other residents of Iloilo City "to take this opportunity to register and be more engaged in our country's electoral process."
"To register and to eventually vote wisely are acts of love and service. They are ways to animate the greatest expression of our faith that does justice. If we desire for a more upright, democratic, progressive, and humane society, we are invited to start taking our roles more seriously and vigilantly as engaged citizens of our country," Lagon said.
Registration will run from 8 a.m. until 5:00 p.m.
The following criteria must be met for registration:
* a Filipino citizen;
* at least 18 years old on or before May 9, 2022 Elections;
* and (3) living in the Philippines for at least one (1) year and living for at least six (6) months in Iloilo City.
Aside from the September 15 schedule in Ateneo, satellite registrations in Iloilo City are also set in SM City Iloilo (Sept. 10-11), Robinsons Main (Sept. 13-14), BJMP (Sept. 16-17, exclusive for inmates), UPV City Campus (Sept. 18), University of Iloilo (Sept. 20), Festive Mall Megaworld (Sept. 21-22), City Mall Parola (Sept. 23), and Robinsons Jaro (Sept. 24-25).
The final main registration is set at the Robinsons Main Mall on September 27-30. Strict health and safety protocols—including the wearing of the face mask and face shield, sanitation, and physical distancing—shall be followed in all the registration sites.
COMELEC Iloilo City hopes that city residents will register earlier as voters' registration for the coming elections is only up until September 30.
Due to the series of lockdowns, the enlistment process in the city was significantly delayed. Hence, COMELEC also expects a surge of registrants in the days nearing the deadline.
To note, requirements for onsite registration include a duly accomplished registration form, health declaration form, and one valid ID (Employment ID, Postal ID, PWD ID, Student's ID, Library Card, Senior Citizen's ID, Driver's License NBI Clearance, Passport, SSS/GSIS ID, PRC ID, IBP ID, NCIP Certificate of Confirmation), photocopy of birth certificate (for new applicants and correction of entries),
For applicants who will change their name by reason of marriage, they need a photocopy of marriage certificate.
Forms in hard copy are also free and available at the registration site. They are also retrievable at the COMELEC website (https://comelec.gov.ph/) online.
Non-Iloilo City residents are advised to visit their respective local COMELEC offices for registration. For inquiries or assistance, interested parties may contact COMELEC Iloilo City personnel at 3375901 or [email protected]. (JHS/Ripples)