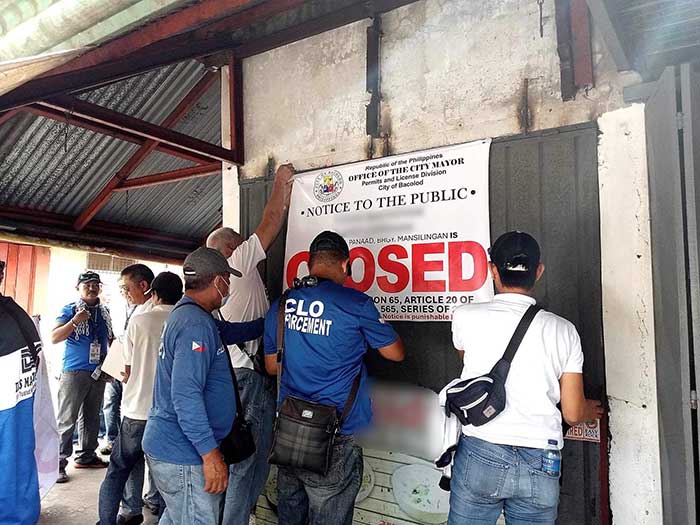 By Glazyl Y. Masculino
BACOLOD City – The City Legal Enforcement Team served a closure order against nine establishments that failed to secure business permits to operate in Barangay Mansilingan here yesterday.
Rey Demisana, CLO Enforcement Team leader, said that they acted on the memorandum order issued by Atty. Romeo Carlos Ting Jr., head of the City Legal Office (CLO), as per the recommendation of the Bacolod Permits and License Division Office (BPLO).
The team accompanied by personnel of the Bacolod City Police Office (BCPO) padlocked these establishments for violating Section 65, Article 20 of City Ordinance (CO) 565 or the Revised Revenue Code of Bacolod City, according to Demisana.
Most of these establishments were restobars and refreshments located along Arceo Drive in the Panaad area.
Demisana said that according to business owners or their staff, they were already in the process of complying with the needed requirements to operate. But, he maintained that they need to implement the closure order pursuant to the advice of the CLO.
Demisana said that there were some discussions upon the implementation of the closure order, but it was just tolerable.
"Wala ta mahimo. This is closure," Demisana said, as he appealed to the business owners to complete the requirements so that they could re-open their businesses.
In September, the BPLO, during its inspection, served final notices to 25 business establishments in the said area for operating without permits.