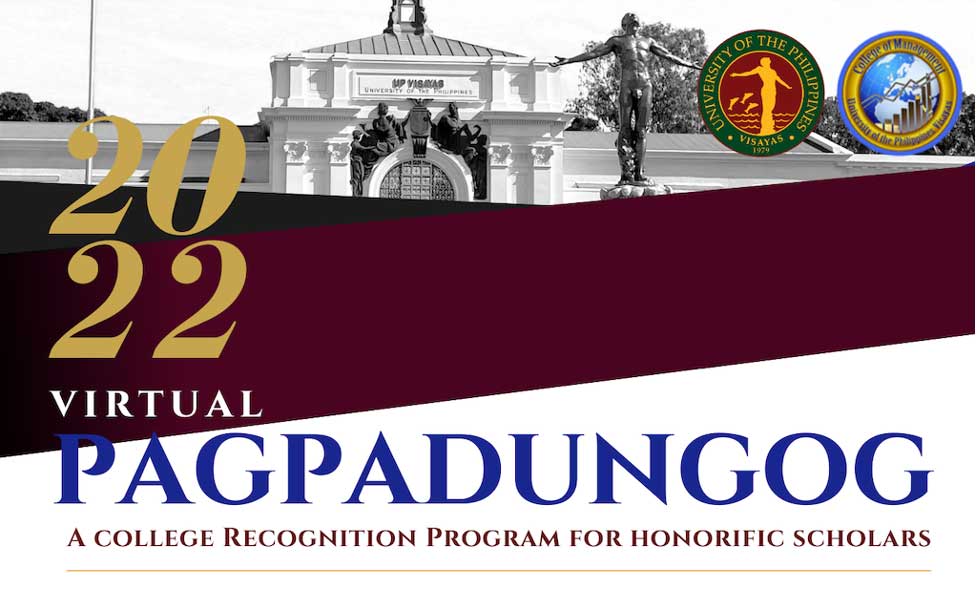 The College of Management (CM) of UP Visayas recognized the honorific scholars for the Academic Year 2020-2021 in its 2022 Pagpadungog held virtually on May 25, 2022.
A total of 454 college scholars were honored on the said virtual recognition for their exemplary academic performance despite the challenges brought by the pandemic.
They are composed of 142 BSA, 156 BSBA (Marketing), and 156 BSM students.
Atty. Christopher B. Honorario, UPV-CM dean, opened the program by welcoming the virtual participants of Pagpadungog, which he referred to as the university's way of saying, "You did a good job."
Despite the challenges posed by the pandemic, students were still able to deliver, and the Pagpadungog is proof of their ingenuity and commitment, he said.
Dr. Clement C. Camposano, UPV chancellor, delivered an inspiring message reminding the honorees that along with celebrating the journey towards academic achievement, they should not lose sight of the parallel journey of citizenship that needs to be taken.
He offered a piece of advice to the honorees in reference to the political events in the past weeks, which may have disheartened so many.
"The recent political event is an important reminder that as you endeavor to advance the knowledge of your chosen fields and lay down the foundation towards your successful careers, so you must also become steadfast advocates of the common good," Dr. Camposano said.
He added that this is the only way for our democratic institutions to endure the vagaries of politics and serve as reliable instruments of a more just society.
Ms. Mutya N. Maraginot-Joseph, BS Accountancy alumna (cum Laude), who ranked number one in the October 2003 CPA Licensure Exam, graced the program by imparting to the honorees the value of "near successes."
From being a perfectionist in high school who saw herself as the brightest in her class to nearly failing her courses during her first year in UPV and failing to become an honor student during her first year, she missed her target of at least graduating magna cum laude.
From there, she realized that she had to readjust the target and work extra hard to graduate cum laude, and she did.
The guest speaker inspired the honorees by sharing her takeaway from that experience, highlighting these near successes as crucial in times when she fell short of her goals.
"I did not see these as failures but near successes that will eventually lead to success."
In response to the motivational message, Vince P. Dela Peña commended his fellow honorees by remembering all their hard work, sleepless nights, and countless breakdowns to get to where they are now.
He said that "breakdowns pave the way for breakthroughs."
Mr. Dela Peña encouraged his fellow scholars to always carry the university's values of "Husay at Dangal" or "Honor and Excellence" as they continue their individual journeys. He also reminded the honorees that as Iskolars ng Bayan at Para sa Bayan, they are called and challenged to pay it forward and give the Filipino people the best that they deserve.
Dr. Philip Ian P. Padilla, Vice Chancellor for Academic Affairs, closed the virtual recognition with a heartfelt reminder to the honorees: "Always remember that UP has taught you primarily what 'Honor' is. In this post-truth world, we need you more than ever to uphold the honor of this country and of this university by speaking out against tyranny, laying bare the naked truth, calling out lies, and continuing to defend the rights of the poor and the oppressed in the Philippines." (Ms. Kezzie Lyn Hilado and Ms. Liza Galanza, College of Management)