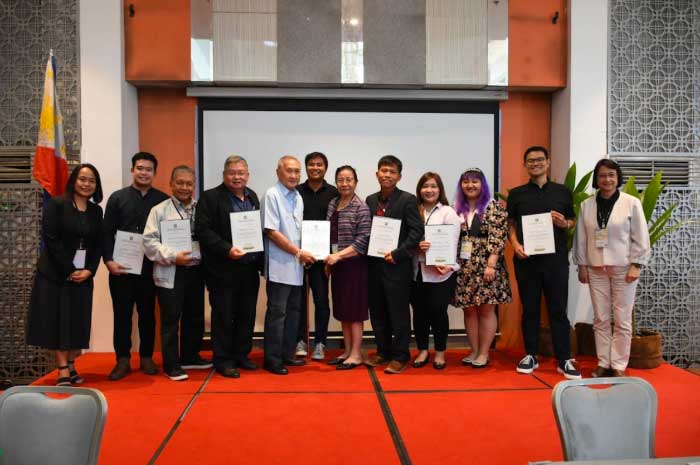 The Philippine Council for Agriculture, Aquatic and Natural Resources Research and Development of the Department of Science and Technology (DOST-PCAARRD), together with leaders and experts of the coconut industry, met with members of the press last June 9, 2023 in Quezon City during this year's first Technology to People (T2P) Media Conference themed,  "Coco-usapan: Hybrids Tungo sa Masaganang Niyugan."
In line with the national effort to improve the coconut industry, DOST-PCAARRD shared with the public its latest research and development (R&D) outputs on coconut hybridization.
Experts from the Philippine Coconut Authority (PCA) discussed and expounded on the government's Coconut Hybridization Program (CHP)under the Coconut Farmers and Industry Development Plan (CFIDP).
Coconut hybrids are the offspring of two different coconut varieties specifically chosen for their desirable features. With multiple advantages compared with traditional tall and dwarf coconut varieties, hybrid coconut offers farmers better production and more sustainable farming practices.
Among the highlights of the event was the sharing of insights of PCA-Research and Development Branch Deputy Administrator Ramon L. Rivera. Mr. Rivera presented some of the advantages of coconut hybrids such as increased yield, higher quality of produce, faster plant development, and better input efficiency.
He noted that some hybrid lines are mature enough for harvest just within four to five years and can produce from 15,000 to 22,000 nuts per hectare per year. According to Mr. Rivera, this characteristic of coconut palms makes them very appealing to farmers and growers due to their potential for higher profits and lower operating costs.
While coconut hybrids provide better output for farmers and consumers, Mr. Rivera emphasized that the goal of the CHP is not to replace the traditional coconut varieties in the country, but to offer an additional option for farmers.
In terms of improving the technology, Director Leilani D. Pelegrina of DOST-PCAARRD's Crops Research Division shared that continuous R&D efforts are in the pipeline to further optimize coconut hybrid technologies. According to Dir. Pelegrina, scientists are also looking into the optimum fertilization of coconut hybrids and in identifying best insect pest and disease management practices among others.
Coconut farmers and early adopters of coconut hybrids who presented their insights and success stories about the technology were Ms. Jhoana Anareta of DFarm; Mr. Oliver Sicam of Sycamore Farm; Engr. Gabriel Nuez of GBN Healthy Secrets Coconut Products Manufacturing; and Ms. Sylvia Ordoñez of Kapampangan Development Foundation, Inc.
According to them, government support was critical in providing opportunities to improve their production and overall business. More than the seedlings, seminars provided by DOST-PCAARRD and PCA were key to the success of their operations.
"Hindi lang po yung natanim na actual seed nuts at seedlings, 'yung may natanim din na knowledge ang nabigay nila at inspiration to move forward," said Mr. Sicam.
CHP aims to provide a more robust coconut R&D and widen its efforts in providing better options for the coconut farming industry. It also hopes to guarantee the production and  sustainability of quality hybrids for the production of selected high-value coconut products. (Karl Vincent S. Mendez, DOST-PCAARRD S&T Media Services)