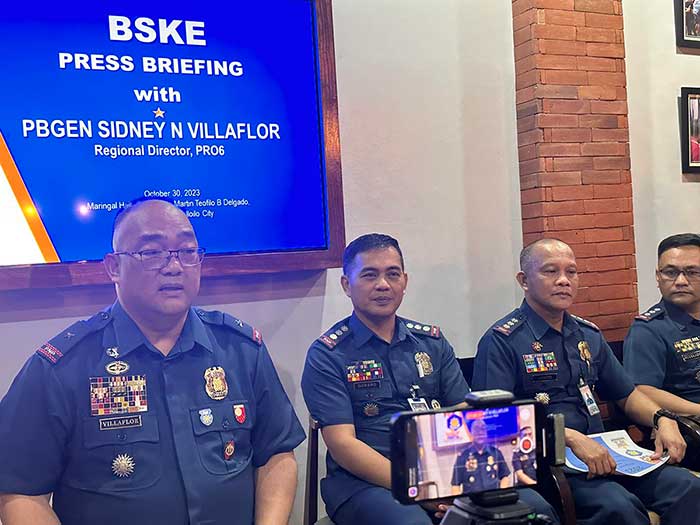 By Jennifer P. Rendon and Rjay Zuriaga Castor
The Commission on Elections (Comelec) has moved for the suspension of 25 candidates for the Barangay and Sangguniang Kabataan elections (BSKE) 2023.
Brigadier General Sidney Villaflor, Western Visayas police chief, said that Comelec-6 regional director Atty. Dennis Ausan personally handed him the list of the candidates who were suspended.
These include nine candidates for barangay captain, seven for barangay kagawad, two for SK chairpersons and seven for SK kagawad.
Of the seven candidates for barangay captains, six are in Iloilo province and one is in Capiz.
There are two suspended barangay captains in Negros Occidental, seven barangay kagawads, one SK chairman and seven SK kagawads.
Another SK chairperson was also suspended in Iloilo province.
Villaflor said he has directed all provincial directors to take appropriate actions in case there would be problems that might arise if they win the elections.
"They should assess the situation in the ground if there's a need for us to take appropriate action," he said.
As of press time, the Comelec-6 has yet to confirm if the suspension orders have already been served.
'PEACEFUL POLLS'
With only four suspected election-related incidents (ERIs) a day before and during the election day, the Police Regional Office (PRO) 6 declared that the conduct of barangay and Sangguniang Kabataan elections (BSKE) 2023 was relatively "uneventful."
"Compared to other regions, we are peaceful here. Walang malalaking insidente na nangyari," Villaflor said.
The four suspected ERIs include a rape and acts of lasciviousness case in Negros Occidental.
The complainant is an SK candidate with two suspects involved.
Another was a vote-buying case in San Enrique, Negros Occidental, and the shooting incident in Calinog, Iloilo.
These incidents could not be automatically tagged as confirmed ERIs, Villaflor said.
"May mga parameters kaming sinusunod before it could be considered as an ERI," he said.
Prior to this, PRO-6 recorded 13 ERIs but all were already validated as non-poll related cases.
Still, compared to other regions where there are deaths due to election-related conflicts, "we're still fortunate that what we have are minor incidents."
He attributed this to the culture of Ilonggos who are generally non-violent and "mababait."
The region's top cop also cited the cohesiveness between the PNP and other law enforcement agencies like the Philippine National Police (PNP), Philippine Army, Philippine Coast Guard (PCG), and Bureau of Fire Protection (BFP).
Iloilo City barangay, SK polls 'peaceful'
Iloilo City Police Office (ICPO) chief, Colonel Joeresty Coronica, also declared that the Barangay and Sangguniang Kabataan Elections (BSKE) in Iloilo City were "generally peaceful."
Coronica noted that there were no recorded incidents of violence or untoward events in the city until the voting period ended at 3:00 p.m.
"Until now, wala kita sang may nabaton nga report nga may ara nga mga violence or any incident," he said in a press conference.
The ICPO head said he directed his station commanders to report recorded incidents as soon as voting in poll precincts closed.
"My station commanders were informed that exactly at 3:00 p.m., kung may ara sila inug report, magpadala sila sang report sa akon, but until now, wala pa sang report," he said.
While there might be delays in the reports, Coronica said that it is safe to say that the BSKE in the city was generally peaceful.
He added that they deployed several personnel to areas where they received reports of intense political rivalry. The ICPO said there were no vote-buying incidents near the perimeters of the polling precincts during the election day.
Coronica said the ICPO closely monitored Barangay Monica-Blumentritt, the only election area of concern in the city due to existing political rivalry.
"Naglibot ko kagina bilog halin diri sa city proper. Didto ko nagkadto sa eskwlehan nga ang atun nga gi-elevate natu nsa category yellow. Nagkadto ko kagina matawhay man kag wala man to may nanotisyahan nga mga unusual nga gakatabo," he shared.
Coronica said that, as per one of his operations managers, the Commission on Elections has served an order for a suspension of the proclamation of one of the candidates for barangay captain in Brgy. San Juan in Molo district.
"As part of our preventive measures, nag-deploy kita additional personnel para nga kung may ara da dismayado kag magplano manggulo," he said.
The ICPO chief stressed that while election day ends today, their security operations will still be ongoing.
"Ang aton nga objective is to maintain peace. Bisan tapos na ang election. Indi pa na natun masigurado nga wala na sang away," he added.