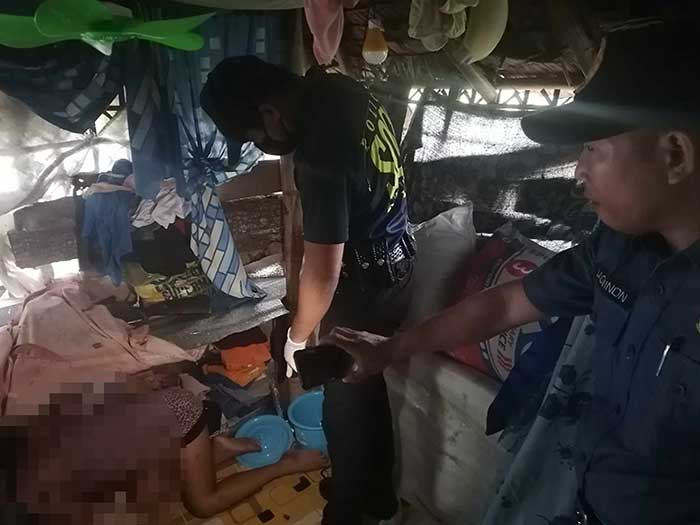 By Glazyl Y. Masculino
BACOLOD City – Policemen are looking into a land dispute as a possible motive behind the killing of a couple at Purok Calango, Barangay Iglau-an, Murcia, Negros Occidental last Saturday.
Police identified the victims as Feliciano Leagoso, 45, of Murcia town, and his live-in partner Susan Hiligawan, 47, of Victorias City. Both had worked as caretakers of a land in Barangay Iglau-an.
Police Executive Master Sergeant Benjie Silva, deputy chief of Murcia Municipal Police Station, said that Leagoso was found first outside a nipa hut, while his live-in partner was found inside the adjacent nipa hut.
Silva said that Leagoso suffered two gunshot wounds, while the injuries of the woman have yet to be determined.
Police recovered from the scene a 12 gauge firearm, a .22 caliber revolver, seven fired cartridge cases, a fired bullet, and seven live ammunition of .45 caliber firearm, a 12 gauge fired cartridge case, nine live ammunition of a .22 caliber firearm, and eight live ammunition of 13 gauge shotgun.
Silva said they are probing if the perpetrators were hired, as he believed that the incident was well-planned.
There had been alleged threats and conflict on the possession of land being taken care of by the couple.
Silva said they are exploring other possible angles, considering that Leagoso was arrested for illegal possession of firearm and ammunition last month and was released just this month after he posted bail.
Two men shot dead
Meanwhile, in Escalante City, a retired jail guard was shot dead by an unidentified person in Barangay Langub last Friday.
Police identified the victim as Crispin Sedayon Jr., 60.
Major John Ganzon, city police chief, said the victim was having a drinking session alone outside their house when he invited someone who passed to join him.
However, the unidentified person suddenly drew his firearm and shot the victim, according to Ganzon.
The victim was declared dead in a hospital.
Ganzon said they have no lead yet on the identity of the perpetrator, as the victim and his live-in partner just moved into the area two months ago.
Ganzon said they are looking into a possible love triangle, as the victim's 24-year-old partner just got separated from her former lover.
In La Carlota City, Wilbert Solina, 54, of Barangay 1 was gunned down by an unidentified perpetrator in Barangay Cubay Proper last Friday. He was an employee of the city's water district, according to the police.
Police Captain Edgar Salde, deputy chief of La Carlota City Police Station, said the victim was riding his motorcycle on the way to the city proper when a green Toyota Vios allegedly tailed and overtook him.
Salde said that the suspect then shot the victim twice in the face and fled.
Police have yet to determine the motive.
Salde said they already have a copy of a closed circuit television (CCTV) camera footage to check the car plate of the suspect's vehicle.