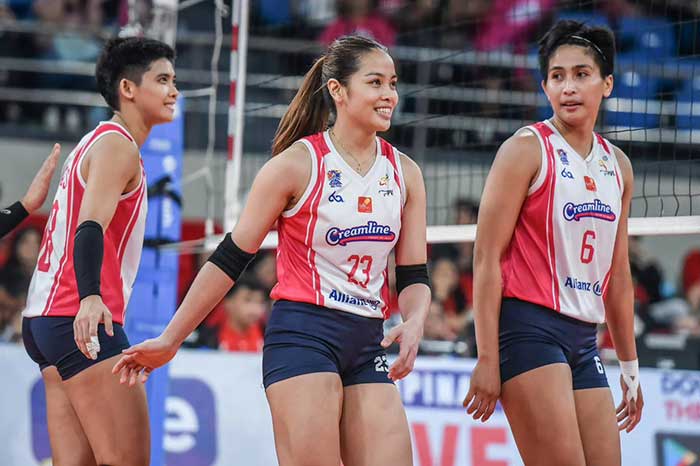 By Leobert Julian A. de la Peña
The Creamline Cool Smashers survived their toughest challenge of the Premier Volleyball League (PVL) All-Filipino Conference so far after outlasting the Petro Gazz Angels in five grueling sets, 25-22, 23-25, 25-27, 25-19, 15-13, last November 9, 2023, held at the Philsports Arena in Pasig.
With the hard-earned come-from-behind victory, the mighty Cool Smashers remained the only unbeaten team in the PVL All-Filipino Conference after five games.
It was what the fans expected from the rivalry between Creamline and Petro Gazz as both squads figured in five nip-and-tuck sets with no team leading by as much as seven points.
The Cool Smashers drew first blood after playing a more disciplined defensive game, reading Petro Gazz's attacks that resulted in several dig saves and block interferences.
However, the Angels redeemed themselves in the next two sets and gave Creamline a dose of their own medicine when they ran the cross-court attack hit play at will.
There was just nothing that the Cool Smashers could do once the Angels elevated to execute their cross-court attacks while also picking up their middle blocking that went missing during their first-set loss.
Just when the Angels thought they could continue their surge, the Cool Smashers made crucial in-game adjustments and banked on the powerful attacks of Tots Carlos.
Carlos answered the call to trim their deficit and started to clinch her offensive rhythm that forced a fifth and final set for all the marbles.
Creamline picked up where they left off at the start of the fifth set after racing to a quick 9-4 advantage courtesy of Bernadeth Pons and Lorie Bernardo.
With the game on the line, Petro Gazz refused to back down and countered with their own scoring run to get within a point, 14-13, but Carlos saved her best for last after converting the game-winning spike.
Carlos impressed against Petro Gazz and finished the five-set thriller with 16 points built from 16 successful attacks.
Meanwhile, Jema Galanza was a steady force for the Cool Smashers and contributed 15 points, 13 excellent digs, and 12 excellent receptions.