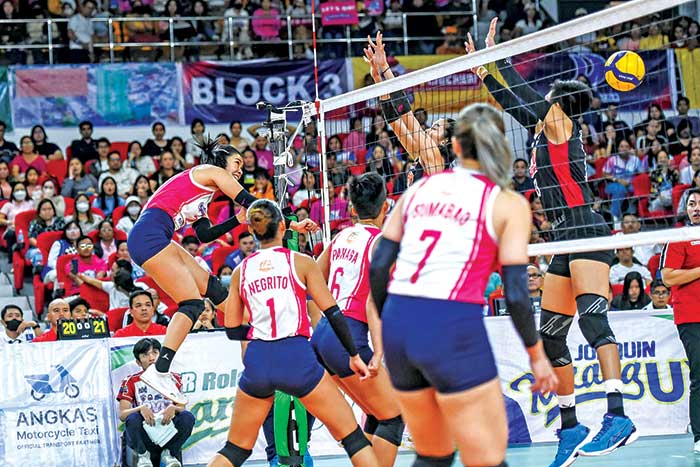 By Leobert Julian A. de la Peña
The Creamline Cool Smashers are still the hottest team in the Premier Volleyball League (PVL) All-Filipino Conference right now after sweeping the PLDT High-Speed Hitters, 25-23, 25-21, 25-19, to maintain its perfect 7-0 record last November 18, 2023, held in Cagayan de Oro.
Creamline was just too much for the High-Speed Hitters as their balanced offensive attack steered them to a league-best seventh straight victory.
After a tightly contested opening set where PLDT had moments to snatch away the momentum but failed to sustain their energy in the last stretch, the Cool Smashers flipped the switch in the last two frames to take control of the game.
With Creamline starting to pick up their tremendous middle blocking midway through the second set, their offense then just started flowing which made life miserable for PLDT.
Alyssa Valdez showed her vintage form in Cagayan de Oro and top-scored the Cool Smashers with 13 big points built from 11 successful attacks.
This has been the first time that the former league Most Valuable Player (MVP) took the team's highest scorer honors after suffering a knee injury several months ago.
Jema Galanza also delivered for Creamline, adding 12 markers in a must-win game as they are already nearing the playoffs.
Kyle Negrito, the one tasked to fill the shoes of former superstar setter Jia Morado-De Guzman who is now playing as an Asian import in the Japan Volleyball League, continued to orchestrate Creamline's offense to perfection as she tallied 15 excellent sets alongside six points.
On the other hand, PLDT had a load of scoring from Savannah Davison who contributed 14 points and 17 excellent receptions but wasn't enough to hold the fort against the waxing-hot Creamline team.
The Cool Smashers will gun for its eighth straight victory on November 23, 2023 as they challenge the NXLED Chameleons while the High-Speed Hitters aim to bounce back against the Choco Mucho Flying Titans the game after Creamline's scheduled match.