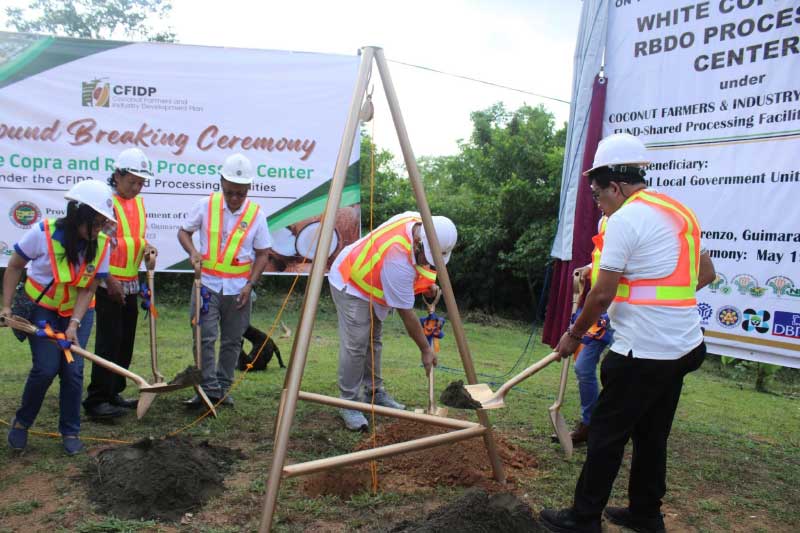 By Joseph Bernard A. Marzan
An attached agency of the Department of Agriculture (DA) said more coconut trees must be planted in Guimaras to maximize a proposed facility that will bolster the island-province's reputation in coconut production.
Romer Areno, Visayas Cluster Head, Philippine Center for Post-Harvest Development and Mechanization (PHilMech), said during the opening of the Guimaras Climate Change Summit on Tuesday that younger people are needed to plant coconut trees in the province.
Areno cited the Philippine Coconut Authority's (PCA) inventory of raw coconut materials but declined to give an exact figure.
"The challenge is that, we are encouraging the Guimarasnon to plant coconut trees because based on our own inventory, it looks like we are going to have a shortage in supplies in terms of raw material to be processed in our coconut processing facilities," said Areno.
"As we have noticed in our validations, coconut tree populations [in Guimaras] are going down little by little. So, we are encouraging our new generations to plant coconut trees to sustain operations of the oil mill here in San Lorenzo, Guimaras," he added.
Areno told the media on the sidelines that more coconut trees would allow the province to maximize the use of an upcoming coconut processing facility in San Lorenzo town, which broke ground last May 19, 2023.
The ₱16-million project is expected to process up to 5,000 coconuts daily, which would be produced into products including white copra and refined, bleached, and deodorized oil (RBDO) or cooking oil.
It was initially proposed by the Guimaras Coconut Farmers Agricultural Cooperative but was ultimately awarded to the provincial government.
The facility is the first oil mill project in Guimaras under the Coconut Industry Development Program (CIDP).
"Even though we have oil mills in Iloilo, the existing available cooking oil available in the market like canola oil and Baguio oil in particular is foreign [sourced]. This time, we are promoting local products so that Guimaras would [also] be known in particular for their cooking oil," Areno said.
PHilMech is mandated under Republic Act No. 11524 (Coconut Farmers and Industry Trust Fund Act) to implement post-harvest mechanization of coconut products, utilizing 10 percent of the funds from the CIDP.
Other agencies involved in the CIDP include the PCA, the Department of Public Works and Highways, the Agricultural Training Institute, the Technical Education and Skills Development Authority, and the Department of Trade and Industry.
While Guimaras is known locally and internationally for its mangoes, data released by the provincial office of the Philippine Statistics Authority (PSA) last April 25 indicated that coconuts are the top crop of the province in the last 3 years.
Coconut production in Guimaras as of 2022 is at 42,679.30 metric tons (MT), up from 40,865.83 tons in 2021 and 38,744.04 in 2020.