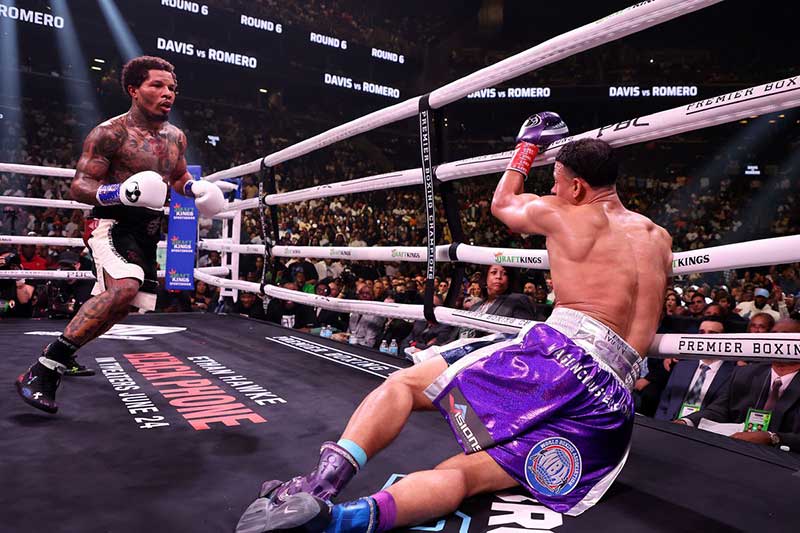 By Leobert Julian A. de la Peña
All it took was one punch for Gervonta "Tank" Davis to end the fight in a dramatic fashion.
Just when everybody thought that World Boxing Association (WBA) interim lightweight title-holder Rolando Romero was gaining ground on Davis in their highly anticipated mega-fight, it only took one vicious left counter hook to end it all.
As Romero was applying his hounding pressure on Davis and unleashed a left-right combination, the young champion from Baltimore suddenly found an opening to connect his heavy counter left hook to put him down in the canvass.
It was Romero who was dictating the pace in the early rounds as Davis was back with his passive style, not throwing enough punches and was just defending the offense that was coming unto him.
The unofficial scorecards then revealed that Romero was leading three rounds to none and became the fuel that ignited Davis' comeback during the fourth round.
Instead of waiting for Romero to force the action, Davis finally initiated some clashes and successfully gained the momentum of the fight.
The crowd then went up to their feet as both fighters traded punches in the fifth round with Romero slipping in several body punches while Davis rocked him with a couple of solid straights.
Romero looked great at the start of the sixth round and was continuing to strike the action first, but Davis may have found the ultimate counter after five rounds of studying his tendencies just like what he did against former world champions Leo Santa Cruz and Mario Barrios.
During those fights against Santa Cruz and Barrios, Davis was also playing catch up in the scorecards but later retaliated with a one-punch knockout win.
Davis then exactly did that against Romero and perfectly landed a left counter that sealed the deal for his 27th straight win.
The current WBA lightweight champion is still undefeated with 25 knockouts and already announced that he wants the big names next for his next fight this year.