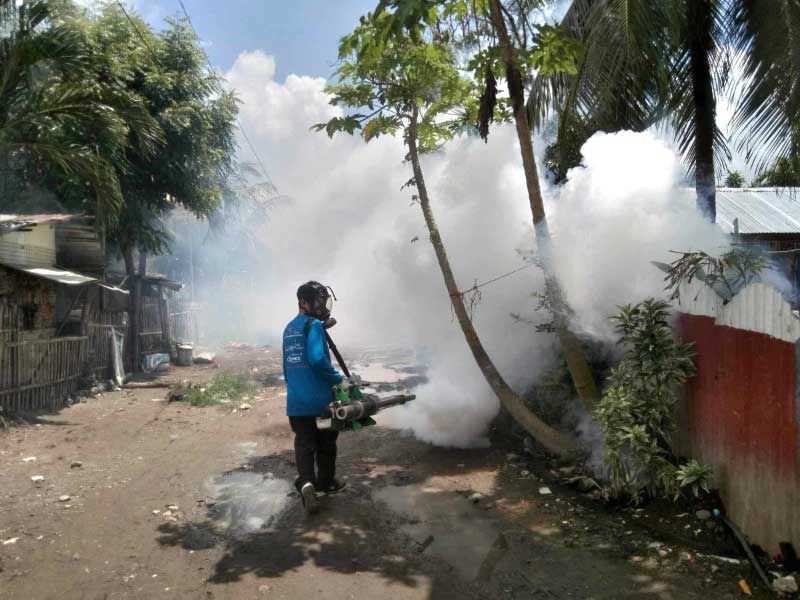 By Rjay Zuriaga Castor and Glazyl Y. Masculino
The Department of Health Center for Health Development in Western Visayas recorded 419 dengue cases from January 1 to August 26 this year, which is 64 percent lower than the 11, 614 cases recorded in the same period last year.
For the first eight months of the year, all provinces and highly urbanized cities in the region except Aklan observed a 2 percent increase.
Antique recorded the highest drop in dengue incidence and was the only province with no recorded deaths during the period.
Dengue cases declined in Negros Occidental at 82 percent, Iloilo province at 55 percent, Bacolod City at 53 percent, Guimaras at 47 percent, Iloilo City at 32 percent, and Capiz reported an 11 percent drop.
Iloilo province had the highest number of cases, with 1,006, followed by Aklan and Iloilo City with 582 and 574 cases, respectively. Guimaras had the lowest number of cases at 121.
Dr. Bea Camille Natalaray, chief of DOH-6's Infectious Disease Section, said the decrease is mainly attributed to the strategic countermeasures of local government units to combat the spread of dengue in communities.
Meanwhile, Natalaray stressed that Iloilo recorded the highest cases of dengue because of its population density and the monsoon rains over the past months.
"Basically because mas taas ang population sa aton sa Iloilo province… Factor man subong ang aton nga weather kay may mga typhoons kita kag factor man nga may mga wet areas pa sa aton nga mga areas especially sa subong nga naga collect naman kita water nga potential contributor sa aton nga cases," she explained in an interview with Radyo Pilipinas Iloilo.
Several towns in the province experienced recent flooding due to the heavy rains brought by the southwest monsoon or habagat enhanced by Typhoon "Betty" in June and Typhoon "Egay" in July.
Meanwhile, the Bacolod City Health Office (CHO) here reported a significant decrease of 53.1 percent in dengue cases from January 1 to August 26, 2023.
Based on the latest CHO data, a total of 335 cases have been reported, compared to the previous year, which recorded 715 cases, covering the same period. The age of the affected ranged from three months to 66 years old.
Three deaths were reported this year, with a case fatality rate of 0.9 percent, compared to nine deaths last year.
Barangays with the highest dengue cases are Mansilingan, 37; Taculing, 26; Tangub and Estefania with 24 each; Singcang-Airport, 21; Vista Alegre and Alijis with 19 each; Villamonte, 18; Mandalagan, 16; Granada, 14; Cabug, 13; and Pahanocoy, 11.
One death each was reported in Barangays Mansilingan, Tangub, and Villamonte.
The CHO said that the most commonly noted mosquito breeding places are water in uncovered containers both in and outside homes. It reminded the public to maintain cleanliness to prevent them from getting sick.
The CHO also reported a total of 161 cholera cases, including 149 suspected cases, and two confirmed cases, with no deaths.
RAINY DAYS
With the opening of classes in all public schools on August 29, Natalaray noted that the cases might go up since children are highly vulnerable to dengue infection.
"Since ang mga bata natun ang mostly affected sang atun nga dengue so most likely ang atun cases," she said.
Natalaray urged the schools to intensify the campaign against dengue fever and continue searching and destroying possible places and areas where mosquitoes live.
"Importante gid nga at the school level we also have our prevention strategies," she said, emphasizing that the local government should also take necessary precautions to keep the mosquito-borne disease under control.
Natalaray further advised residents to seek early consultation at the nearest health center if one has been showing signs and symptoms such as fever for 2 to 7 days and headache, body weakness, joint and muscle pains, pain behind the eyes, loss of appetite, vomiting, diarrhea, and skin rashes.
She further advised the public to practice DOH's enhanced 4S against dengue: Search and destroy mosquito breeding sites; self-protection; seek early consultation; and support fogging or spraying indoors and outdoors.