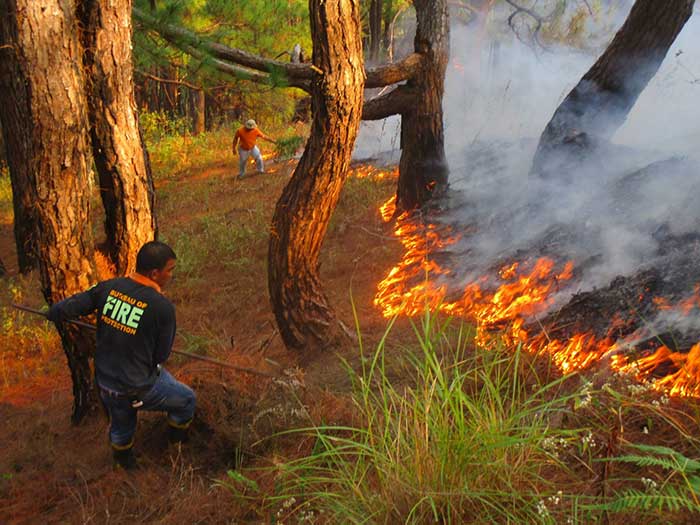 By Jennifer P. Rendon
The Department of Environment and Natural Resources (DENR)-Region 6 warned that extreme heat brought by El Niño might ignite wildfires.
As El Niño continues to gain traction on the waters of the Pacific Ocean, weather bureau Philippine Atmospheric, Geophysical, and Astronomical Services Administration (PAGASA) predicted that temperatures can soar higher in the coming months.
El Niño is a large-scale oceanographic/meteorological phenomenon that develops in the Pacific Ocean and is associated with extreme climatic variability i.e., devastating rains, winds, and drought, among others.
PAGASA is predicting that it might gain strength in the coming months.
In a press statement, DENR-6 said that dry conditions might lead to forest and grass fires occurring in localities that are experiencing dry spells and droughts.
It added that DENR-6, together with the Forest Management Bureau (FMB) and other government agencies concerned, is monitoring the situations, especially in protected landscapes around the region.
Western Visayas is home to protected forests such as the Sibalom Natural Park in Antique; the Northwest Panay Peninsula Natural Park straddling the provinces of Antique and Aklan; the Jalaur River Watershed Forest Reserve and Bulabog Putian National Park in Iloilo; the Panay River Watershed Forest Reserve in Capiz; and the Northern Negros Natural Park in Negros Occidental, to name a few.
These areas are vital sources of water that can become increasingly scarce should El Niño continue to intensify.
Livino Duran, DENR-6 regional executive director, has reminded the public to be vigilant and avoid practices that might stoke fires within their communities.
"Aside from wildfires occurring naturally due to extreme heat, human practices like kaingin, throwing away cigarette butts on dry vegetation, and irresponsible burning of wastes can ignite unintentional fires and cause damage to the environment. Let us be mindful of our seemingly simple actions," Duran said.
Due care and attention must be given, and efforts must be strengthened to protect our landscapes and mitigate the risks brought about by the ongoing El Niño.
On top of wildfires, DENR-6 said that El-Niño posed a significant threat to public safety as it endangers different sectors that are climate-sensitive such as agriculture, health, energy, and water resources to name a few.
"Plant more trees and conserve our water resources. Being wasteful must not be an option because everything is scarce in times like this," Duran said.
He stressed that food, water, and energy supplies that are vital to us will dwindle and it can be catastrophic if we don't mitigate the possible effects of El Niño. (With reports from DENR-6)