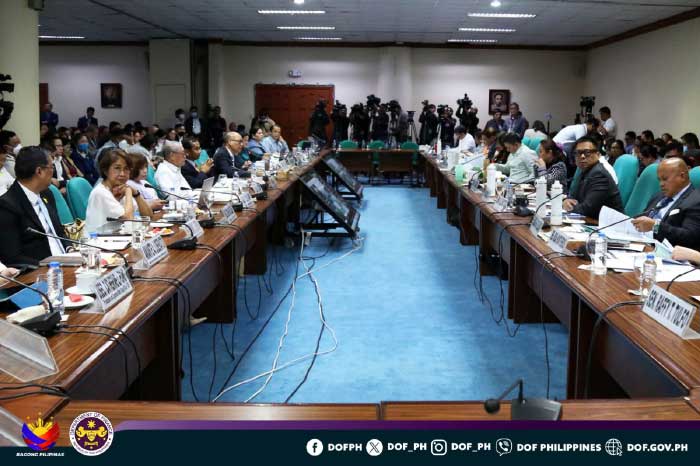 During the Development Budget Coordination Committee (DBCC) briefing to the Senate on the proposed PHP 5.768-trillion National Budget for Fiscal Year (FY) 2024, Finance Secretary Benjamin E. Diokno gave an overview of the Medium-Term Fiscal Framework (MTFF), revenue collection performance, and legislative priorities identified by the Department of Finance (DOF) that would help the government achieve the MTFF targets.
These include the passage of the remaining tax reform packages of the Duterte administration, as well as new measures such as the excise tax on single-use plastics (SUPs), rationalization of mining fiscal regime, motor vehicle road users tax, excise tax on sweetened beverages and junk foods, tax on pre-mixed alcohol, value-added tax (VAT) on digital service providers, carbon taxation, capital market development bill, and the military and uniformed personnel (MUP) pension reform bill.
"These tax revenue measures will enable us to raise additional revenues totalling 120.5 billion pesos or 0.5 percent of GDP in 2024. These will further increase to 152.2 billion or equivalent to 0.5 percent of GDP in 2025 with the enactment of the motor vehicles road user's tax and further to 183.2 billion pesos or 0.6 percent of GDP in 2026," Secretary Diokno said during his presentation before the Senate Committee on Finance, chaired by Senator Juan Edgardo "Sonny" Angara, on August 15, 2023.
The MTFF serves as the government's blueprint to bring down the country's debt-to-GDP ratio from 60.9 percent in 2022 and to less than 60 percent by 2025, cut the deficit-to-GDP ratio to 3.0 percent by 2028, and maintain infrastructure spending at 5 to 6 percent of GDP.
"While we await the passage into law of the proposed tax reforms, the DOF and its collecting bureaus are aggressively implementing reforms to strengthen tax administration in order to achieve Medium-Term Fiscal Framework targets," Secretary Diokno said.
The Bureau of Internal Revenue (BIR) and the Bureau of Customs (BOC) are diligently pursuing their respective digitalization programs that are intended to eliminate corruption, increase transparency and improve the ease of paying taxes.
Bangko Sentral ng Pilipinas (BSP) Governor Eli M. Remolona, Jr. presented the developments in the monetary, financial, and external sectors as well as macroeconomic assumptions.
Meanwhile, National Economic and Development Authority (NEDA) Secretary Arsenio M. Balisacan presented the priorities under the Philippine Development Plan (PDP) 2023-2028, while Department of Budget and Management (DBM) Secretary Amenah F. Pangandaman gave an overview of the priority expenditures under the proposed budget.
During the interpellation, Senator Loren B. Legarda referred to the MTFF as an innovation and a guidepost when preparing the budget.
According to the economic managers, the lower GDP growth for the second quarter of 2023 was largely due to a decline in government spending.
Underspending can be defined as the difference between program disbursements and actual disbursements.
According to Secretary Pangandaman, there was an underspending of PHP 170.5 billion or a decrease of 6.6 percent due to ongoing procurement and implementation of government programs, as well as right-of-way acquisition issues that cause significant delays in infrastructure spending.
To remedy this, Secretary Pangandaman said that the DBM is Implementing measures such as the issuance of early release of allotment; the conduct of early procurement activities; the launch of the government purchase card; the digitalization of government disbursements and collection; and the adoption of integrated financial management system across government agencies for seamless and faster transactions.
Furthermore, the DBM recently issued Circular Letter No. 2023-10 requiring government agencies to submit catch-up plans to facilitate budget execution for the rest of FY 2023 and address underspending.
In response to the concern of Minority Leader Senator Aquilino "Koko" Pimentel III on the Philippines' ballooning debt levels and government spending, Secretary Diokno explained that productive public spending and investment in critical sectors such as infrastructure is crucial to achieving economic growth.
"We need to invest to expand the economy, because we suffer in comparison with our ASEAN neighbors. But they have been investing for a long, long time––around 10 percent of their GDP," Secretary Diokno explained.
To close the Philippines' infrastructure gap, public infrastructure outlay in the next six years is targeted to be at 5 to 6 percent of GDP, as laid out in the MTFF. Under the proposed FY 2024 budget, PHP 1.4 trillion, equivalent to 5.3 percent of GDP, is allocated to the Build Better More infrastructure program.