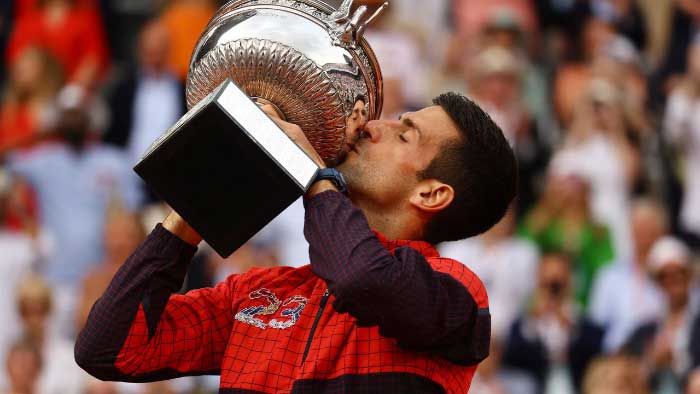 By Leobert Julian A. de la Peña
Mission accomplished for Novak Djokovic.
Entering this year's French Open with the ultimate goal of breaking his 22-Grand Slam deadlock with the great Rafael Nadal, the Serbian powerhouse was locked in from the get-go and dominated Casper Ruud during the grand finals- 7.6, 6.3, 7.5- to raise his record-breaking 23rd major title last June 11, 2023.
With the win at Roland Garros, Djokovic only collected his second overall title in France and will have the chance to widen his gap on Nadal if he rakes all remaining Grand Slam tournaments this July (Wimbledon) and August (US Open).
Fireworks immediately treated the thousands in attendance at the Philippe-Chatrier as Ruud stunned Djokovic early in the first set when he scored a crucial break point to nab a 4-2 lead.
However, Djokovic's championship experience once again rose to the occasion after countering back with his own break point to force a deciding tiebreaker set.
Djokovic then found his hitting rhythm in the most perfect time and pummeled Ruud in the tiebreaker, 7-1, to enter the next two sets with boosting confidence.
Ruud displayed all his offensive variety just to keep up with Djokovic's pace but was put in an unfortunate situation as he just faced a super-determined Serbian living legend in the next 50 minutes of the match.
The young Norwegian came alive again midway through the third and final set after keeping himself within striking distance but Djokovic iced the game with several long rally winners.
Everyone then held their breaths during the championship point as Djokovic and Ruud had a 10-volley exchange but was halted when the challenger committed a forehand winner.
As the ball bounced outside, Djokovic screamed, lay on the clay court, and just looked up at the sky while hearing the fans cheer his name as the only male tennis player to reach 23 Grand Slam trophies.
"A Grand Slam is a Grand Slam. Four biggest tournaments that we have in the history of our sport, tennis. Every single player dreams of being on this stage and winning the trophy at least once in their career. I am beyond fortunate in my life to win, 23 times, Grand Slams," Djokovic said after his win.