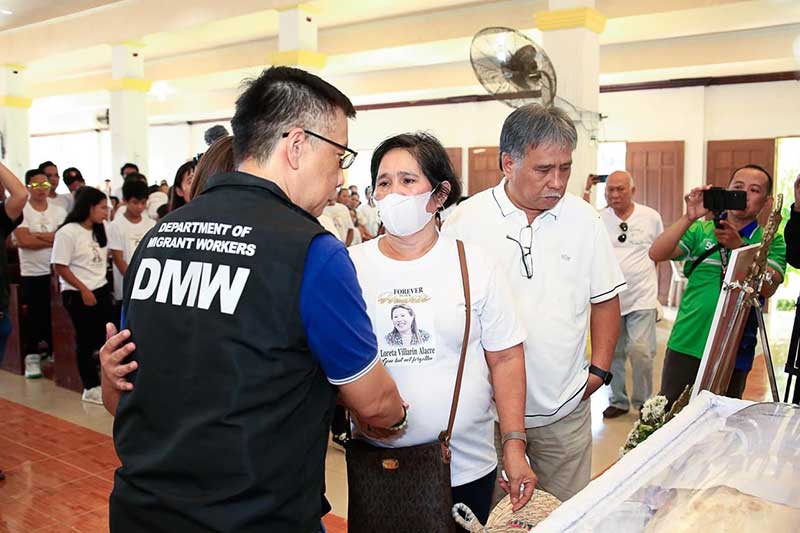 By Glazyl Y. Masculino
BACOLOD City – The Department of Migrant Workers (DMW) has assured that all the necessary help or assistance pursuant to the mandate of President Ferdinand "Bong-Bong" Marcos will be given to the family of slain overseas Filipino worker (OFW) Loreta Alacre.
These include financial assistance and livelihood to the family members who are in need, among others, according to DMW undersecretary Hans Leo Cacdac, who attended the burial of Alacre in Cadiz City, Negros Occidental last Sunday.
In a media interview, Cacdac said they share the grief of Alacre's family in her passing.
Forty-nine-year-old Alacre was killed in an attack by Hamas militants against Israel while she was attending a music festival in the Gaza Strip on October 7.
Alacre, being the breadwinner of the family, had worked for about 15 years in Tel Aviv as a caregiver. She supported the education of the three children of her siblings.
Cacdac said the DMW vows to do all the remedies to aid the education of the said children.
"Just as important, we made this vow to the family to help their education," Cacdac said, adding that they will carry on what Alacre has started.
Cacdac said that they are also thankful for the assistance extended by the Israeli government to the family of Alacre.
"We all know that OFWs are performing heroic deeds. Mga bagong bayani sila. It's sad and unfortunate na four of our kababayans needed to sacrifice their lives at the utmost hour of their duties," he said.
He noted that "at that same time, there's a sense of pride and a sense of carrying on of what they have started."
"We're proud of them and we will keep them in our hearts and minds, and the best way to do this is to help those who were left behind," he said.
Prior to Alacre's burial, the local government has unveiled a marker of the Loreta V. Alacre Evacuation Center (LVAEC) at the Cadiz Viejo National High School (CVNHS) compound in Barangay Cadiz Viejo, in honor of Alacre who was declared as the city's heroine.