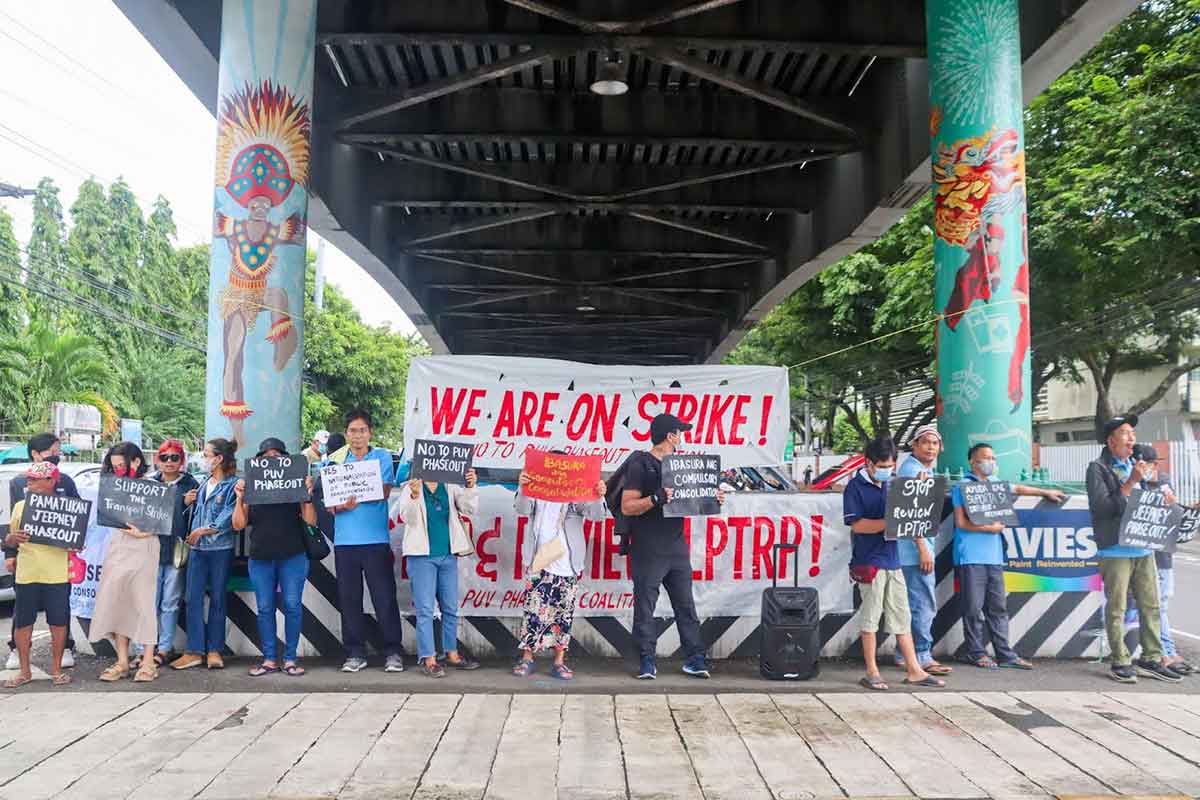 By Rjay Zuriaga Castor
Traditional jeepneys in Western Visayas will join the three-day nationwide transport strike scheduled for next week which they described as a "do or die" protest amid their impending phase-out from the streets next year.
Warren Gangoso, president of the "No to PUV Phase-out Coalition-Panay," said that around "80 to 90 percent" of the 2,500 traditional jeepneys in the region will join the transport strike, set to begin next Monday, November 20, and until Wednesday, November 22, 2023.
"Nagasuporta gid kami kay gusto namun depensahan ang amun pangalabuhian kay indi gid namun mabaton kag indi gid makatarungan nga ang amun jeep kag franchise nga gin pangabudlayan madula," said Gangoso in a press conference on Thursday.
He mentioned that both unconsolidated and consolidated jeepney drivers and operators will participate in the strike. However, he did not provide details about the cooperatives from which the consolidated ones are coming to avoid receiving a show cause order from the Land Transportation Franchising and Regulatory Board (LTFRB).
"Ang amun ginapakigabato diri madula na kami, wala na gid kami sang may mahimo. Ang amun bala its do or die na lang. Kung mapatay man ang amun palangabuhian, mabato na lang kami," he added.
Gangoso said the transport strike next week is "stronger" than the strike they mounted on July 24, which coincided with the second State-of-the-Nation Address of President Ferdinand R. Marcos Jr.
Peter Vigo, a jeepney operator on the Bo. Obrero route, mentioned that his family primarily depends on the single jeepney he purchased while still working as a seaman. Vigo was involved in an accident that left him unable to work.
"May duwa ako kabata kag ang isa naga eskwela pa. Dira nagasandig ang tanan tanan nga kinanghalanon ko sa matagadlaw nga tanan. Kung kuhaon lang nila ang isa lang gid nakun ka alakakyan, ano na lang ang akon palangabuhian kag isagod sa ila?" he said.
Operators of public utility vehicles (PUV) have until December 31 to join transport cooperatives or corporations as part of the government's PUV modernization program.
"Nagahilapit na tani ang paskwa apang ang atun maatubang subong kasubo nga kuhaan kiat sang palangabuhian […] Kung ano man ang patakaran sang LTFRB sundon namun pero tani indi lang ma phase out ang amun salakyan kay muna lang gid ang amon palangabuhian," Vigo added.
The LTFRB recently announced that being a member of an existing transport cooperative or applying for consolidation will be a requirement for vehicle registration with the Land Transportation Office (LTO) next year.
Bernabe Villaniza, president of the Jaro Alliance of Jeepney Operators and Drivers Association (JALITODA), pointed out that the modernization program is "anti-poor."
"Nagakontra ini sa interes sang mga magagmay nga operator kag driver kag ginapaburan ang mga dalagko nga negosyante. Kung tani, makita ini sang gobyerno kung ano kadamo ang madulaan sang palangabuhian kag kung ano kadamo nga mga commuters ang maapektuhan," he stressed.
The PUV modernization program, which started in 2017, compelling drivers and operators to use an electric vehicle or a combustion engine that complies with a Euro IV emission standard to reduce greenhouse gas emissions, toxic fumes, and other forms of air pollution.
A traditional jeepney costs around P150,000 to P250,000, while according to state-run banks, a modern e-jeepney is priced between P2.3 million to P2.8 million pesos.
The Department of Transportation recently announced that the government will increase the subsidy for transport operators purchasing so-called modern jeepneys to P210,000 from P180,000.
Arlie Bosque, president of the National Union of Students of the Philippines, has called on school administrators to cancel classes as a show of support for the plight of the traditional jeepney drivers and operators.
"Dapat man nga makipag-isa kita sa pagahiwaton nga strike sa Lunes kay pagdepensa man ini sa palangabuhian sang atun nga mga drivers," he added.
In the three-day strike, there will be strike centers in areas such as Oton, Tagbak Terminal, Ungka Terminal, University of the Philippines-Visayas, and in front of the Iloilo Provincial Capitol.