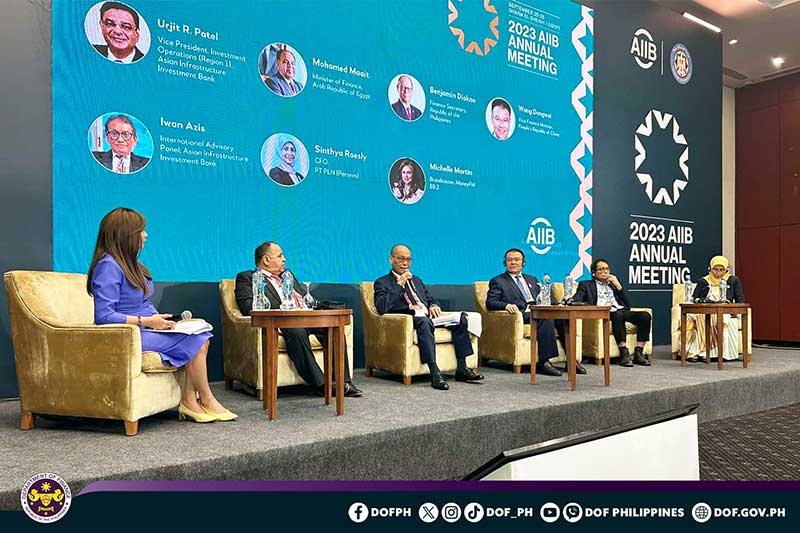 Finance Secretary Benjamin E. Diokno underscored the need for innovative financing solutions to support physical and digital connectivity projects during the 2023 Asian Infrastructure Investment Bank (AIIB) Annual Meeting Flagship Event: Enhancing Connectivity in a Challenging World on September 26, 2023 at Sharm El Sheikh, Egypt.
The flagship event explored connectivity and its impact on trade and economic development. It also sought to emphasize the crucial role Multilateral Development Banks (MDBs) play in facilitating connectivity to enhance resilience in a challenging world.
During the moderated panel discussion, Secretary Diokno shared the challenges to connectivity stemming from the Philippines' years of infrastructure underinvestment.
He cited data from 2001 to 2015 when the Philippines only spent an average of 2 percent of gross domestic product (GDP) for infrastructure.
Coming from the previous administration's successful Build Build Build program, Secretary Diokno shared that the Marcos, Jr. administration plans to arrest the years of infrastructure underdevelopment through its ambitious Build Better More program.
The Philippine government has prioritized 197 infrastructure flagship projects (IFPs) worth an estimated US$ 155 billion, covering energy, water, logistics, transportation, agribusiness, manufacturing, tourism, health, and education.
The Secretary shared that to ensure adequate financing, the government has reformed its tax system and committed to maintain the level of spending—5 to 6 percent of GDP—for the duration of the President's six-year term. The government's fiscal commitments are embedded in the Philippines' first-ever medium-term fiscal program.
To provide more financing support for the IFPs, the government has implemented numerous game-changing reforms to attract investments into the country, including the recently passed Public-Private Partnership (PPP) Act, which has been approved by both Houses of Congress.
The measure seeks to establish a PPP legal framework to enhance the Philippines' PPP policy environment for more smart, climate-resilient infrastructure development in the country without the need to sacrifice fiscal space.
Apart from implementing the right policy tools, Secretary Diokno emphasized the importance of bilateral and multilateral development partners, saying that a sizable portion of the IFP list is being considered for official development assistance (ODA) financing support.
These are projects on physical and digital connectivity with an aggregate investment requirement of PHP 4.68 trillion (around US$ 82.5 billion) for 80 of the IFPs.
On another note, the Finance Secretary underscored the need to ensure the successful and quality implementation of infrastructure projects.
To this end, risk management solutions and policy reforms using a whole-of-government approach are being adapted and practiced in the Philippines.
Strengthening connectivity includes greater digital technology adoption. Hence, the Philippines is venturing into its first Digital Transformation Development Policy Loan, which will be co-financed by a US$ 600 million loan from the World Bank – International Bank for Reconstruction and Development (WB-IBRD).
The Program will digitalize government systems for better delivery of services, bolster financial inclusion through the wide-scale adoption of digital payments, and boost business growth in digital services.
The event was attended by AIIB Governors, economists, and connectivity project practitioners. Urgit R. Patel (AIIB Vice President for Investment Operations) gave his opening remarks, while Dr. Mohamed Maait (AIIB Board of Governors Chair and Minister of Finance of Egypt), Mr. Wang Dongwei (Vice Finance Minister of China), Professor Iwan Azis (Cornell University), and Ms. Sinthya Roesly (National Electricity Utility of Indonesia) joined the discussions as panelists alongside Secretary Diokno.