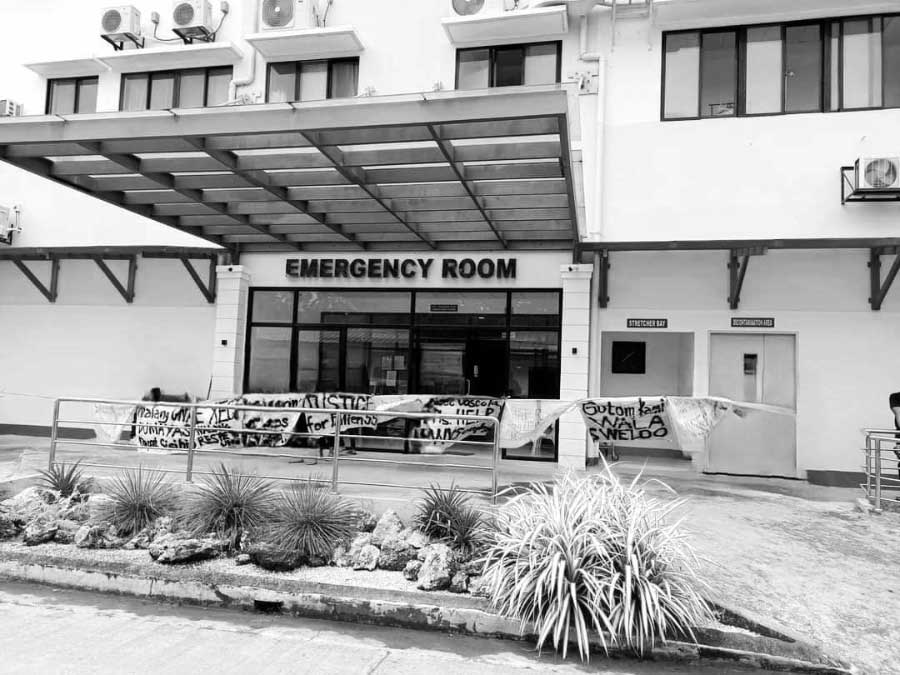 By John Noel E. Herrera
The Department of Health (DOH) will investigate the complaints of delayed salaries and benefits of health workers at the Western Visayas Sanitarium General Hospital (WVSGH), according to Iloilo 2nd district Rep. Mike Gorriceta.
Gorriceta said DOH Undersecretary Camilo Pancratius Cascolan will send a team to investigate the complaints of some employees against the WVSGH management in Santa Barbara, Iloilo, and will demand a change of leadership in the facility if the problem will not be resolved.
"Kabay pa nga this January, ma-resolve lang sa gilayon. Ako ya ang concern ko gid ang serbisyo bala sa mga pasyente, nga accessible na tani," the congressman said.
As the author of the law (Republic Act 11723) which upgraded the then Western Visayas Sanitarium into a general hospital, Gorriceta urged DOH-6 regional director Adriano P. Suba-an to look into WVSGH's services, the management of employees, and regulations.
He said he has been receiving complaints as early as the second quarter of 2022.
"These issues were seen to have not been resolved even after more than six months of lobbying for their resolution, and up until now, I have received contentious complaints from my constituents, not only regarding the delay of employee salaries and benefits but also regarding the insufficient services and procedures of the said hospital," part of Gorriceta's letter to Suba-an read.
"If these concerns continue without intervention, the health care delivery system and the hospital's services would be greatly compromised, most specifically for the people who are relying on its services. If these persist, we cannot fully achieve the patient services and offer the advanced health goal that we are eyeing to reach," it added.
Gorriceta also indicated in the letter the other concerns of the workers, such as their long-overdue benefits, such as the One COVID Allowance (OCA), and issues of reapplications, in which some renewal of contracts were rejected despite excellent performance evaluation ratings.
Meanwhile, Iloilo board member June Mondejar said during his privilege speech on Tuesday, Jan 10, 2023, that if it is true that employees' salaries are released only every three months, "I don't think that employees can perform well and if they do not perform well, patients are adversely affected."
He added that patients and employees are already suffering and it should not be worsened by ineffective hospital management and services.
"This is something in which we must also lift our fingers for our affected constituents. Who knows, we would be instrumental in normalizing the situation," he emphasized.
In December 2022, Mia Arguelles, former operating room nurse in the said hospital, posted a lengthy post on her Facebook account about the silent protest of 15 workers at WVSGH, which also caught the attention of the public.
"Salaries have been delayed for decades (every 3 months gaabot) but until now, two days before Christmas eve, our November salaries haven't been given yet. Allowances that have been promised to us haven't seen the light of day and no one is giving statements about those, too. Not to mention the fact that all the hospital equipment and facilities have been broken for a long time (meaning ang obra namon is ang budlay pagid tapat because of broken elevators, broken light bulbs, burnt outlets)," part of the post read.
"Yes I am scared that I may lose my job for doing this, but I am more scared of the fact that a lot of our peers can't procure their basic needs because no one is fighting for us or should I say are already tired of fighting for benefits we ACTUALLY EARNED," it added.
Arguelles also said that the hospital laid off 22 contract of service (CoS) employees, including her, despite the fact that her performance evaluation scale was "outstanding".
"They laid off 21 other employees. Some of which opted to resign but 11 of those were from the finance department. ALL of the COS employees from their department got fired. The reason is still unclear up to this day. Yesterday, Jan 3, I was informed that my contract was disapproved despite the fact that my performance evaluation scale was outstanding and that I didn't have any major grievances in the past years. It was because nakita kuno ang post ko nga nagreklamo about sa 8 hour shift amuna wala nalang ako gin-renew (sic)," she said.
WVSGH chief Dr. Judy Ann Dumayas denied the allegations that the salaries of their personnel were not released on time.
"Wala sang delay as before the year (2022) ended, ang salaries and benefits of the plantilla personnel with permanent positions nahatag na ya tanan," she said.
Data from the hospital indicated that WVSGH has 172 plantilla personnel and 255 CoS workers.
Arguelles and other workers who led a protest against the hospital are CoS workers.
Dumayas also explained that CoS employees must submit their daily time records (DTRs), statements of account, and monthly reports of accomplishments before their salaries can be released.
This flow of salary processing for CoS workers is practiced not just in WVSGH, but also in other government offices, she added.
The hospital chief added that the budget for plantilla employees is provided by the national government through the DOH, while the salaries of the CoS workers depend on the hospital's generated income.
Dumayas also confirmed that the contracts of 255 CoS employees expired on Dec 31, 2022, and 22 workers were not renewed, including Arguelles.
Dumayas added that the rehiring of the CoS workers was assessed based on their performance ratings, which Arguelles also questioned on her Facebook post since she got an "excellent" rating.