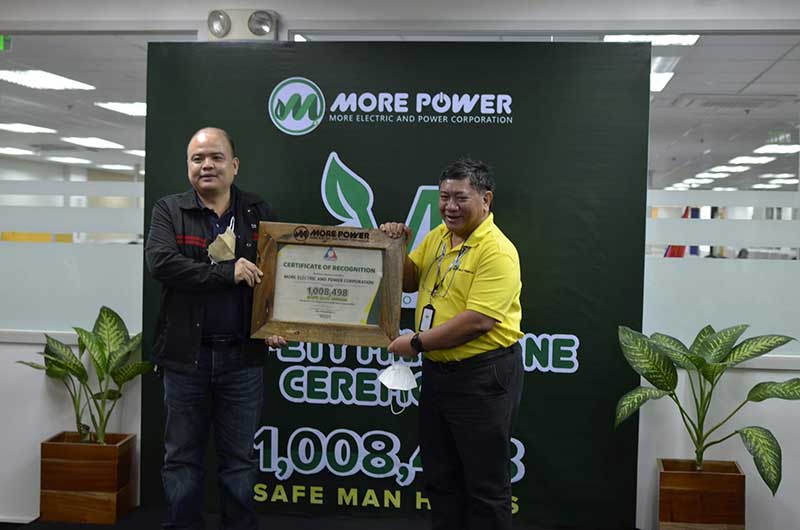 By Francis Allan L. Angelo
The Department of Labor and Employment (DOLE)-6 regional office hailed Iloilo City's lone power distributor for reaching 1 million safe man-hours since it began operating more than two years ago.
In a ceremony on Aug 12, 2022, DOLE-6 assistant regional director Atty. Dax Villaruel said MORE Power's notching 1,008,345 safe man-hours as of June 2022 is a "priceless achievement."
"The 1,008,345 safe man-hours (as of June 2022) we are celebrating today, is a testament to your genuine concern for the safety and welfare of your workers. This is a priceless achievement. Protecting the lives and limbs of the employees while in the performance of their duties is invaluable. There is no greater joy than seeing each and every worker accomplish their task without lost time and injuries and be united with their families at the end of each working day," Villaruel said.
A safe man-hour by definition, is a unit of production completed without any lost time, injury or accident.
He added that DOLE appreciates MORE Power "for observing the required occupational safety and health standards in the workplace and in upholding DOLEs mandate of protecting the workers' rights and welfare."
"We strongly encourage you to continue with the 'safety first' policy and make it a way of life."
DOLE recognizes firms that rack up safe man-hours in keeping with Republic Act No. 11058 (Occupational and Health Standards Act) which promotes a safe and healthy workplace and the protection of the Filipino workers through the formulation and implementation of policies pertaining to occupational safety and health.
Villaruel said the government "recognizes the safety of every Filipino worker against injuries, accidents or sickness in every workplace and it is our constitutional mandate to safeguard the worker's social and economic well-being as well as his physical safety and health."
He credited MORE Power for ensuring that workers accomplish their tasks without lost time and injuries and be united with their families at the end of each working day."
"The company's attitude on safety and health is something that we all can be proud of.  The milestones you have reached did not happen by chance; but by your commitment, hard work, cooperation and the passion to create a safe working environment. Your company's promotion of safety is a solid contribution to the nation's economic progress.  Remember, a healthy work force in a safe working environment is a productive work force," Villaruel added.
In response, MORE Power president and COO Roel Castro said achieving more than 1 million in safe man-hours will inspire workers and the management to serve the consumers.
"We are really giving much importance on the safe man-hours. At the end of the day, even if we want to give the best service sang aton mga konsumidor, we also have to make sure that when our employees get home, they are safe to be back to their families. For us, the 1 million safe man-hours, is very important and it just call for a celebration for all our employees and employees of our contractors," Castro said.