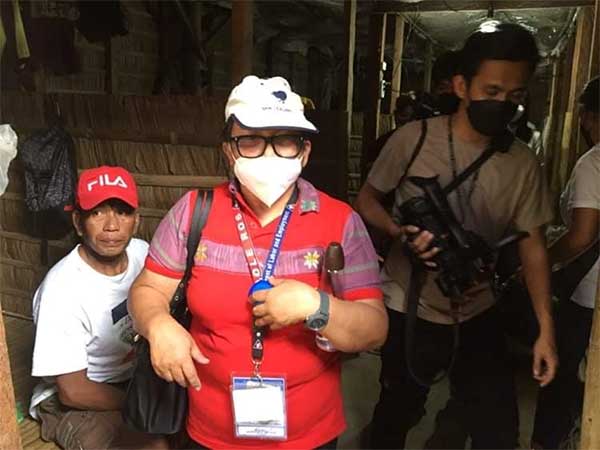 The Department of Labor and Employment Regional Office No. 6 through its Antique Field Office (DOLE RO6-AnFO) participated in the "Bisita Sacada" to monitor the condition of the Sugar Migrant Workers (SMWs) or "sacadas" in the province of Negros Occidental.
The provincial government of Antique initiated the activity that aims to check on the situation of Antiqueños who are working in large sugarcane plantations in various haciendas in the Province of Negros Occidental.
DOLE RO No. 6 took the opportunity as it champions the workers' well-being.
"It is DOLEs mandate to look after the welfare of the workers and to make sure that they are treated fairly and humanely," OIC-Regional Director Atty. Sixto T. Rodriguez Jr. said,
The team composed of representatives from DOLE led by DOLE RO 6-AnFO Head Carmela M. Abellar and different provincial government offices of Antique spent time with the "sacadas" to listen to their woes and blues while working in sugarcane plantations away from their families for months.
As of Dec 31 last year, 4,157 sacadas were deployed to 92 sugarcane plantations in Negros Occidental.
Mill supervisors would start hiring "sacadas" as early as July for the milling season that starts usually in September and ends in April.
Abellar, a Negrense and a granddaughter of a milling supervisor, fully understands the procedures and safeguards in hiring the "sacadas".
"To ensure the eligibility and the protection of the sugarcane migratory workers, we require complete submission of their documentary requirements like medical certificates before their deployment," she said.
DOLE is also mandated to issue Authority to Transport to planters through their authorized representatives under Department Order No. 159 series of 2016.
During the program, Abellar assured the "sacadas" that DOLE will continue to protect and uphold their rights like the rest of the Filipino workers, deserving of the right wages and benefits including occupational safety and health as well as social protection and the enrollment of all "sacadas" in the Social Security System (SSS).
The team visited the temporary dwelling facility provided by employers to the "sacadas" to make sure that they have a decent and safe place to stay during their employment in the haciendas.
The Provincial Government of Antique headed by Governor Rhodora J. Cadiao also distributed food packs and medicines to the "sacadas" in the haciendas in Isabela and La Carlota City.