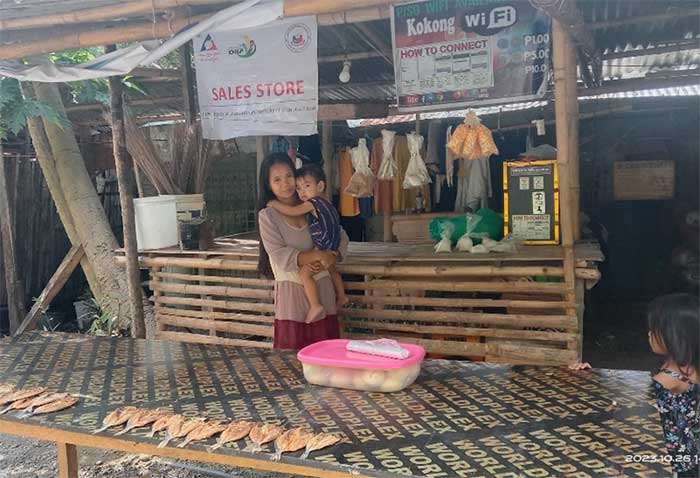 The Department of Labor and Employment (DOLE)-6 regional office through its Antique Field Office released Php1.550 million in livelihood assistance to support the micro-entrepreneurs or sari-sari store owners in the municipality of Tibiao, Antique by restoring or enhancing their livelihood projects.
The Kabuhayan Restoration Program is one of the three components of the DOLE Kabuhayan Program which aims to enable the re-establishment of lost or damaged livelihoods due to various risks or occurrence of natural or man-made disasters like the COVID-19 or other calamities.
Geraldine Sales was forced to close her sari-sari store when the pandemic struck.
Its crippling effect to the livelihood of the family forced Sales's 17-year-old son to engage in child labor. He worked with his father, a truck driver, during the day and goes fishing at night to earn additional income.
They would usually leave at 6 o'clock in the evening and back at midnight which is dangerous both to the health and safety of the young lad.
The restoration of Sales' sari-sari store put a stop to the child labor activities of her son and restored his normal school routine. She hopes to send her son to a military school when he reaches college.
"Handom gid ka akon bata nga maka eskwela sa Philippine Military Academy (PMA) pag abot kang ana nga college (My son dreams of studying at the PMA),"' she proudly said.
To earn more, Sales has expanded her sari-sari store by engaging into buying and selling of dried fish and bamboos. Sales is one of the 62 beneficiaries who are mostly farmers, senior citizens, women and parents of child laborers.
The Kabuhayan Program does not only restore lost or damaged livelihoods but also helps in the formation and enhancement of projects intended to increase one's income. The program also provides hope for the vulnerable sector.
"We are helping improve the living condition of the informal sector like our micro-entrepreneurs and parents of child laborers through DOLEs Kabuhayan Program. Restoring their livelihood, is also restoring their dignity and inspires them to strive for a brighter future," said Regional Director Atty. Sixto T. Rodriguez, Jr.
Rena Mae Joy Martinez, another beneficiary of the sari-sari store project, found renewed enthusiasm with DOLE assistance. A mother of three, she stopped running her sari-sari store after 2 years of operation due to lack of capitalization.  The DOLE assistance she availed of is expected to augment the income of her husband from fishing.
"We are hoping the livelihood projects will be sustained and managed properly by the beneficiaries so it will go a long way, prosper and augment their families' income," said Ma. Cecilia S. Acebuque, OIC-Head of DOLE RO 6-Antique Field Office.
To ensure the sustainability of the livelihood projects provided to the beneficiaries, a Project Monitoring Team was created by LGU Tibiao composed of the PESO, MSWDO and Punong Barangays to oversee the project implementation.