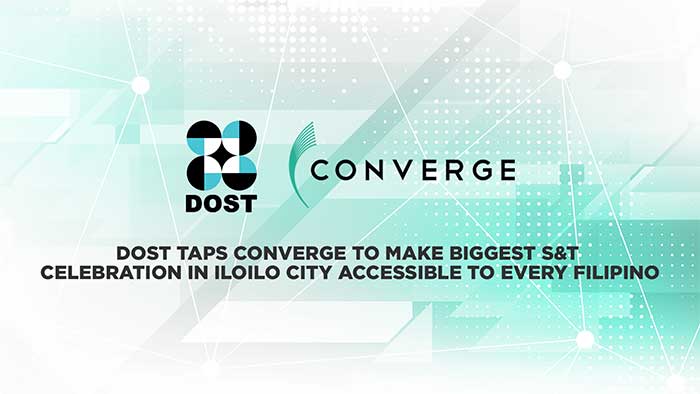 The Department of Science and Technology (DOST) taps Converge ICT Solutions Inc. as the official connectivity partner of the upcoming 2023 National Science, Technology, and Innovation Week (NSTW) in Iloilo City. This will ensure accessibility of all activities targeting over 10,000 participants.
The NSTW will take place from November 22-26, 2023, in four separate locations in Iloilo City: Iloilo City Convention Center for the main science and technology (S&T) exhibits, Captain John B. Lacson Training Ship and Museum of the Philippine Maritime History, National Museum of Western Visayas for the Natural Fiber and Textile Exhibits, and at Festive Mall for the Tek-tienda Bazaar with an array of locally made products from DOST SETUP adopters.
This marks the first time the DOST is bringing the national S&T celebration to the region. Ilonggos will have the opportunity to witness and enjoy the latest innovative products and services developed by Filipino scientists, researchers, innovators, and engineers nationwide.
With the theme "Siyensya, Teknolohiya, at Inobasyon: Kabalikat sa Matatag, Maginhawa, at Panatag na Kinabukasan," the focus will be on "Creating and Protecting Wealth for a Sustainable Blue Economy." The celebration will showcase research and development-based products and services addressing environmental and marine protection, aquatic and natural resources, and their impact on various sectors across the country.
"Despite the centralization of activities in Iloilo City, the DOST still aims to make the event accessible to people in other areas through livestreaming services on our official social media channels and websites. And we appreciate Converge ICT Solutions Inc. for sharing its resources and infrastructure in Iloilo City to provide reliable internet connectivity to three of the four sites," said DOST Secretary Renato U. Solidum Jr.
"As an ICT company, Converge is proud to be an enabler of STEM and innovation in the country. As I've said before, there is no lack of talent among Filipinos, but we just need the proper ecosystem to develop our talents. We share in this celebration of NSTW with DOST as their official connectivity partner so that more people can have access to these science and technology activities," said Converge CEO and Co-Founder Dennis Anthony Uy.
Prior to this engagement, DOST, through its DOST-Science and Technology Information Institute, recently forged a partnership with Converge through a Memorandum of Understanding (MoU) last September that sees the ICT company helping to make DOSTv programs widely accessible to Filipinos through Converge's free streaming services such as BlastTV and Converge affiliate PKN Group's Vision and Fiber TV.
The NSTW collaboration is the latest partnership activity between the Converge and DOST in their shared goal of building a culture of science within the Philippine population. Using the strong presence of Converge in Region 6 will enable NSTW visitors to fully maximize their experience with reliable connectivity. Secretary Solidum considers this partnership one of the department's milestones in going the extra mile in promoting science, technology, and innovation in the country.
Converge has been active in using connectivity to assist and enhance learning in the country, providing pure fiber connectivity to schools and universities during and after the pandemic to support e-learning at home. At the height of the pandemic in 2021, Converge partnered with the Philippine Science High School System (Pisay) to fiber connect their Learning Hubs nationwide. Pisay is one of the attached agencies of the DOST that provides opportunities to students under the STEM program to excel in their chosen fields and nurture their capabilities in science, technology, and innovation.
The 2023 NSTW celebration in Iloilo City will feature over 100 interactive exhibits and more than 40 technical forums, career talks, and technology launches. Notably, this year we will see simultaneous S&T activities in satellite venues within the city, complementing Iloilo's cultural attractions while at the same time promoting local tourism with a dash of science.
The change in the celebration's schedule from July to November, as per Proclamation 780 signed by former President Rodrigo "Roa" Duterte in August 2019, aims to maximize participation from schools, students, stakeholders, the business sector, and the public, aligning with the academic calendar of most universities, schools, and educational institutions.
For further information and updates regarding the 2023 NSTW celebration, follow the official NSTW Facebook page and website, or direct inquiries to nstwpromotions@gmail.com.