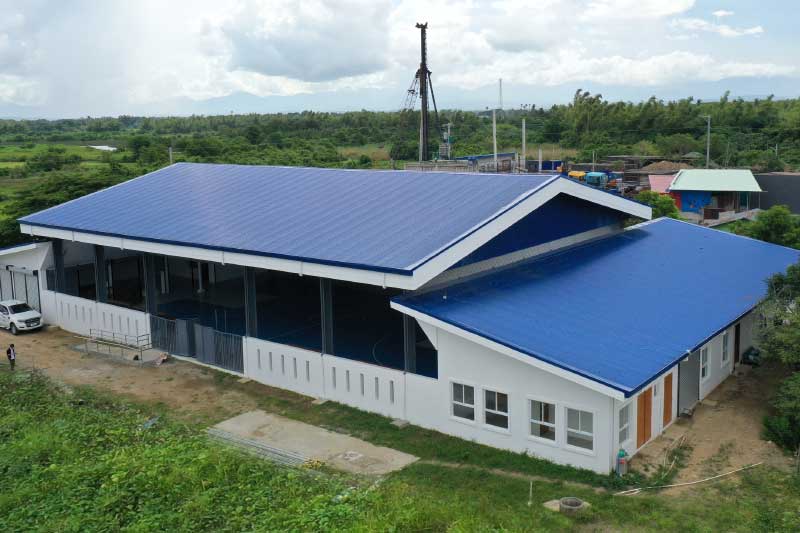 An evacuation center is a vital and essential establishment that serves as a temporary refuge for individuals who have been displaced from their homes due to various emergencies or disasters. It plays a critical role in ensuring the safety and welfare of affected individuals during times of crisis.
Hence, residents of Iloilo City now have a permanent evacuation center delivered by the Department of Public Works and Highways (DPWH), which can also be utilized as a venue for sports and other activities.
DPWH-6 OIC-Regional Director Sanny Boy O. Oropel has recently turned over the Regional Evacuation Center to the Iloilo City government to be used as a temporary evacuation center in times of calamities and disasters, as well as a venue for various events in the city.
With a total allocation of ₱48.6 million, the multi-purpose building, located in Barangay Sooc in Arevalo district, near the healthcare facilities built by DPWH during the hype of COVID-19, has a covered basketball court that can be converted into an evacuation center that can accommodate 196 families or 500 individuals.
During the turnover ceremony, Oropel emphasized the significance of the said building for the people in the city, which will function far beyond just a temporary shelter.
"This facility stands as a symbol of unity, preparedness, and resilience of our community in times of crises, serving as a safe haven where families can find shelter, support and solace," RD Oropel said.
"Its purpose extends far beyond its physical structure as it embodies our commitment to safeguarding. This center offers a comprehensive approach to disaster management, a versatile facility with multi-function, equipped with complete amenities that can accommodate roughly 500 individuals," RD Oropel added.
RD Oropel further explained that the building features necessary facilities such as a basketball court with a stage that could cater to sports and other activities of various barangays in the city. It also includes necessary amenities to include a reception area, mess hall, administration office, storage area, play area with breastfeeding room, conjugal space, toilet and bath for males and females with provision for persons with disabilities (PWD), clinic, prayer room, laundry and drying area, cistern tank, and parking area. It further includes the provision of an anaerobic baffled reactor generator room and transformer.
Meanwhile, RD Oropel disclosed that DPWH has already completed 25 regional evacuation centers in the region; 13 of which are in Panay, 2 in Guimaras, and 10 in Negros Occidental, with 1 ongoing in Siplay City
"As we enhance our disaster response capabilities, we also strengthen the bonds that unite our community. Hence, this evacuation center is a tangible manifestation of our collective responsibility and strong determination to stand strong in the face of adversity in order to ensure the safety and security of our fellow Ilonggos," RD Oropel stressed.
Evacuation centers are crucial establishments that provide temporary shelter and support to individuals displaced by emergencies. They serve as a safe haven and cater to the varied needs of evacuees during times of crisis, a shelter and safety for people who are displaced from their homes due to natural disasters, such as floods, hurricanes, and wildfires. In addition to providing a safe refuge, evacuation centers also coordinate food, medical care, and other support services. (DPWH)