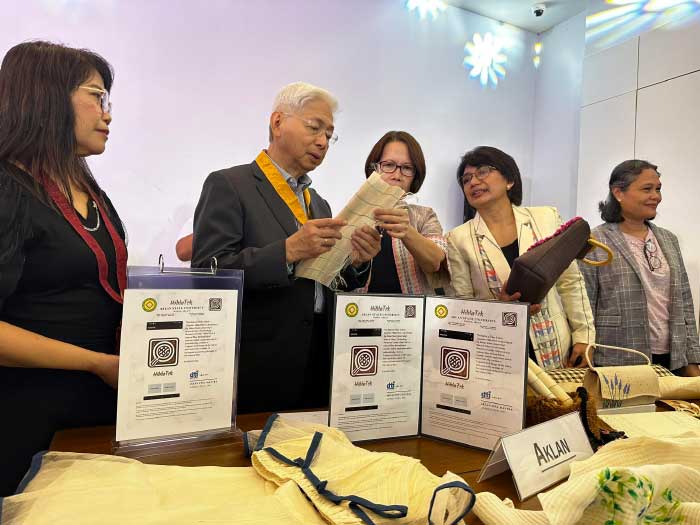 By Jennifer P. Rendon 
In an Information Age dominated by internet, digital presence is deemed crucial in staying afloat.
This is considered vital among business, to include those engage in the micro, small, and medium enterprises (MSMEs).
Acknowledging this importance, the Department of Trade and Industry (DTI) has embarked on what it considered as a "significant milestone in our journey towards digitalization for an inclusive and sustainable economic development."
On Thursday, June 8, the DTI-Region 6 jointly launched the Regional Inclusive Innovation Center (RIIC) and the Integrated MSME Management Information System (iMMIS) at the Park Inn by Radisson, SM City Iloilo Complex, Benigno Aquino Jr. Avenue, Iloilo City.
The event had DTI Secretary Alfredo Pascal and Assistant Secretary Leonila Baluyut as guests and speakers.
The launching jumpstarts DTI-6's bid to foster a competitive and vibrant technology and innovation ecosystem in Western Visayas.
Branded as Weave Philippines, the RIIC will serve as platform to link stakeholders from government, academe, and industry to address gaps in the regional innovation and entrepreneurship ecosystem, and shall support the upscaling of the existing Regional Industry Clusters.
DTI-6 is the first RIIC with a regional coverage as it involves all the six provinces of Western Visayas.
On the other hand, iMMIS is integrated and comprehensive database management system that will provide policy directions and solutions to effectively manage various information of MSMEs in the region.
This will also serve as basis for insights and data-driven decision making as well as in the conduct of relevant and appropriate programs, projects, and activities.
Ermelinda Pollentes, DTI-6 regional director said that the RIIC and iMMIS are two vital initiatives that embody the agency's commitment to nurture and support MSMEs in Western Visayas.
It is foreseen that the iMMIS will enable the DTI-6 to effectively collect, organize, and analyze information pertaining to MSMEs in Region 6.
Currently, there are around 48,000 MSMEs in Western Visayas that are on board on the platform.
"By harnessing the power of data, iMMIS will provide us with valuable insights and a deeper understanding of the challenges and opportunities faced by our MSMEs. With this information, we will be able to formulate targeted policies and strategies that will drive further their growth and success," Pollentes said.
She added that iMMIS is not just a database, as it will also be a catalyst for change to empower the agency to make informed decisions and provide the necessary support to our MSMEs as they navigate the ever-evolving business landscape.
Meanwhile, Pascual has cited the importance of Science, Technology, and Innovation (STI) and digitalization in propelling the country's industrialization.
Thus, the need to upgrade, upskill, and upsize the MSMEs and ushering in their digital transformation, in order for them to reach wider markets.
Pascual believed that with iMMIS, management and utilization of information related to MSMEs in Region 6 will be maximized.
"Through this system, stakeholders and MSMEs alike will have access to reliable and up-to-date data, enabling them to make informed decisions and formulate targeted strategies to support the growth and sustainability of MSMEs in the region," he said.
Pascual added that the shift to digitalization helps the stakeholders, especially the MSMEs, become more resilient and continue to be competitive and sustainable.