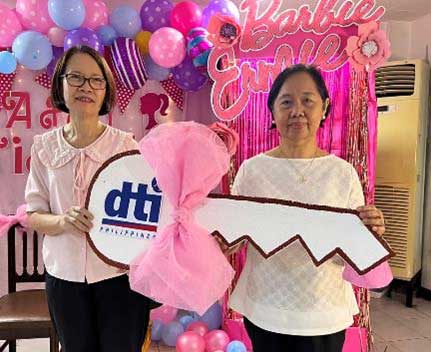 The Department of Trade and Industry (DTI) Region VI has a new leader at the helm.
Former Assistant Regional Director Rachel N. Nufable, has assumed the role of Officer-in-Charge (OIC) Regional Director, effective October 29, 2023. Her appointment followed the retirement of the esteemed former OIC-Regional Director, Ermelinda P. Pollentes, who concluded her 43-year career in public service.
Nufable's appointment was made official through DTI Memorandum Order No. 23-3662, series of 2023.
On October 18, 2023, a symbolic handover of responsibilities took place during a retirement celebration held at the DTI Regional Office VI where OIC-RD Pollentes marked her retirement with a heartfelt send-off.
In her parting words, OIC-RD Pollentes not only bid farewell but also laid down a challenge for all: to carry forward her legacy, especially her initiatives in Information Technology-Business Process Management (IT-BPM) for Region VI.
She envisioned a promising future for Western Visayas, aspiring for it to become the " Healthcare Information Management System (HIMS) Capital of the World" and a seedbed for startups, setting the goal of achieving this by 2028.
With OIC-RD Nufable now at the helm, the future of DTI Region VI holds great promise as it continues to strive towards these lofty goals.