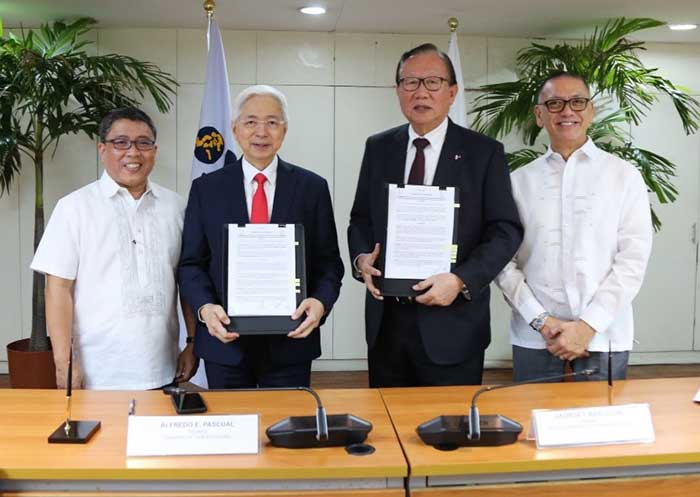 On 25 September 2023, the Department of Trade and Industry (DTI) and the Philippine Chamber of Commerce and Industry (PCCI) signed a Memorandum of Understanding (MOU) to formalize their partnership in the promotion and utilization of the country's trade agreements and other preferential arrangements.
This MOU will complement the Department's trade education and advocacy campaign to ensure that stakeholders are aware of the opportunities that these trade agreements bring and that they are capacitated to utilize these FTAs.
Secretary Pascual underscored "This MOU is another concrete step to help boost the competitiveness of our industries. We aim to undertake initiatives that will empower our stakeholders to compete in a bigger market and seize the available opportunities therein.   Through these FTAs, it will provide an enabling environment for businesses, particularly as we advocate the utilization of these FTAs and build the capacity of our stakeholders."
The PCCI, regarded as "The Voice of the Business" and the largest business organization in the country has always been the Department's reliable partner in shaping trade and investment policies in the country.
With its extensive network of partnerships with various industry associations, and business councils, PCCI is significant in empowering the export industries of the country to utilize these trade agreements.
Further, the partnership is aligned with the Department's objective to strengthen the competitiveness of Philippine businesses, particularly the micro, small, and medium enterprises (MSMEs).
One of the main cooperation activities to be undertaken under the MOU is the establishment of international trade assistance centers or help desks in key regions or provinces with the help of PCCI and its local chambers.
Further, building on a holistic approach, the PCCI and other industry associations will be provided with capacity-building and mentorship programs to strengthen their capability to utilize trade agreements and arrangements effectively.
Likewise, regular trade-related dialogues and consultations will be held for local business communities, especially those with export potential.
This partnership is timely with the recent entry into force of the Regional Comprehensive Economic Partnership (RCEP) agreement for the Philippines that will seize opportunities in the RCEP region.
As of date, the country's FTA network is anchored mainly on regional FTAs via the ASEAN. It has only two (2) bilateral FTAs, that is, with Japan and the European Free Trade Association (EFTA).
Recently, the country just signed another FTA with South Korea, and once effective, it will be its third bilateral FTA.
The country also benefits from various Generalized Scheme of Preferences (GSP) such as the European Union GSP Plus (EU-GSP+) and the UK Developing Countries Trading Scheme (UK DCTS).