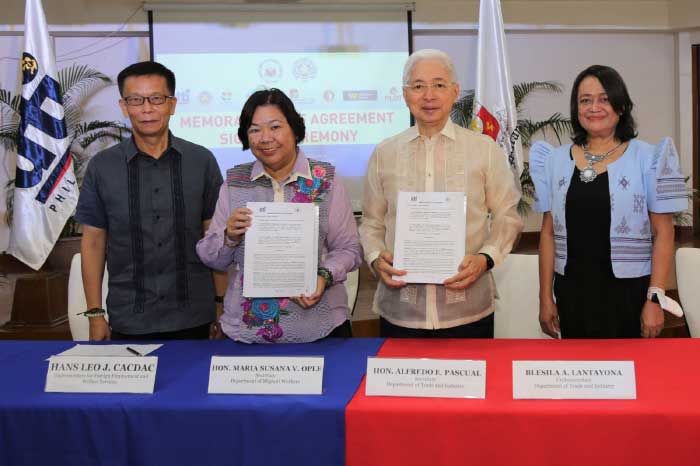 MANDALUYONG City – During the signing of a memorandum of agreement (MOA) on 07 June 2023 between the Department of Migrant Workers (DMW) and Department of Trade and Industry, DTI Secretary Fred Pascual highlighted the Department's collaborative efforts with DMW in ensuring the sustainable livelihood of OFWs and their families.
The MOA between DTI and DMW aims to create a partnership where their respective programs and activities will be integrated with each other for the purpose of implementation and accomplishment of an integral part of the Full-Cycle Reintegration Program.
In his speech, Secretary Pascual cited the huge contribution of overseas workers to the economy,  "Salamat sa ating mga makabagong bayani. Your remittances have been a great source of stability for our country's economy through the years. Last year, personal cash remittances grew 3.6% to USD36.14 billion. This accounted for 8.9% of the Philippines' gross domestic product (GDP)."
According to Statista, 95% of OFW remittances are spent on household expenses, about 30% are saved, and 6.5% are invested. The DTI chief added, "This shows OFWs' interest in building a future in the Philippines."
Among the efforts cited by the DTI Secretary to help OFWs in starting their business in the country include   (1) business registration assistance, (2) entrepreneurial trainings, seminars and workshops, and (3) market access to ensure their efficient integration in the Philippine economy.
Further, in accordance with the DTI's strategic goal of upgrading, upskilling and upsizing the micro, small, and medium enterprises (MSMEs), the Department will also equip potential and starting OFW entrepreneurs with the necessary skills, knowledge, and resources for their businesses to thrive.
Under the signed MOA, the Department will also conduct assessment to identify the needs of the OFW beneficiaries and match them with appropriate DTI programs best suited to their needs. Additionally, the DTI will issue certification to the OFWs or their family members upon completion of trainings to make them eligible to livelihood grants and financial assistance of DMW.
Aside from this, the DTI and DMW committed to create a Technical Working Group (TWG) with at least two representatives from each department to implement and monitor the guidelines of the said agreement. The TWG is   tasked to promote and strengthen the expansion of this program to local government units (LGUs) and other stakeholders.
In closing, Secretary Pascual emphasized,  "To the OFWs and their families present here today, I want you to know that we in government stand united in supporting your journey to prosperity. Your sacrifices, hard work, and dedication inspire us all. Your resilience in the face of challenges is truly remarkable. We are here to ensure that you have the support and resources you need to succeed, especially as you plan to invest your hard-earned money in the Philippines."