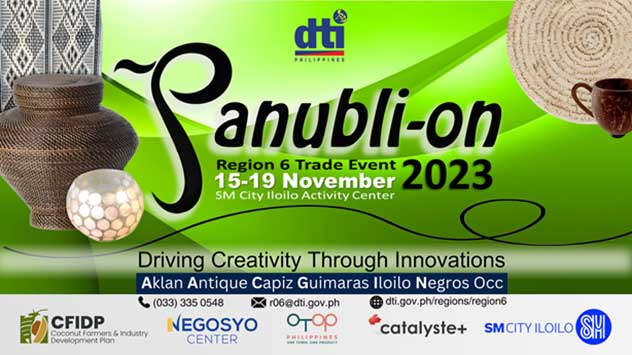 The Department of Trade and Industry (DTI) Region 6 opened the annual marketing event, Panubli-on 2023, set to take place at the SM City Iloilo – Activity Center from November 15th to 19th, 2023.
Themed "Driving Creativity Through Innovations," this regional trade fair has become a beacon of excellence, showcasing the rich cultural heritage and cutting-edge innovations of Western Visayas.
Derived from the Ilonggo word meaning 'heritage,' Panubli-on encapsulates the essence of the event, highlighting the region's proud traditions while exploring new frontiers in creativity and innovation. Since its inception in 2003, Panubli-on has evolved into a hallmark of quality, craftsmanship, and forward-thinking initiatives.
Panubli-on 2023 will feature a diverse array of industries, proudly spotlighting hablon weaving, piña, abaca, and other fibers, alongside gastronomic delights, artisanal crafts, bamboo, vines, and various local raw materials. Over 120 Micro, Small, and Medium Enterprises (MSMEs) will participate, presenting more than a hundred new local products crafted under the One Town, One Product (OTOP) Next Gen Program.
This year, Panubli-on introduces pavilions dedicated to showcasing advancements in industry clusters such as Bamboo, Coffee, Cacao, Coconut under the CFIDP & Wearables, and Homestyle through the RIIC initiatives. Additionally, special programs implemented in the region, including Catalyste+, Ubra PWD, Youth Entrepreneurship Program (YEP), and Start-Ups, will take center stage, demonstrating the entrepreneurial spirit and ingenuity of the region.
The festivities kick off on November 15th with cocktails and coffee brewing setting the stage for a day of networking and celebration highlighting the region's coffee culture.
On the 16th and 17th, Panubli-on 2023 will captivate visitors with a Food Tasting extravaganza, offering a culinary journey through the region's delectable gastronomy. Panubli-on 2023 stands as a witness to Iloilo's status as a Gastronomy City, where every dish tells a story, and every flavor is a celebration of the city's culinary excellence. Simultaneously, Craft Demo sessions will unfold, providing insights into the intricate craftsmanship that defines Western Visayas.
The allure takes center stage on November 18th with the Grand Fashion Show, where local designers and artisans will unveil their latest creations. Some of the fashion pieces are products of DTI-assisted MSMEs who are also stakeholders Region VI's Regional Inclusive Innovation Center (RIIC), aptly branded as Weave Philippines. This fashion spectacle aims to not only showcase the region's vibrant textile industry but also promote sustainable and indigenous fashion.
Panubli-on 2023 culminates in a spectacular Awards and Recognition Gala on November 19th. The ceremony will honor the MSME of the Year, paying tribute to outstanding entrepreneurs who have made significant contributions to the region's economic landscape. Additionally, the Heritage Awards and Product Awards will be presented, recognizing excellence in preserving cultural heritage and product innovation.
The Department of Trade and Industry Region 6 invites industry stakeholders and the public to participate in Panubli-on 2023 to experience the vibrant tapestry of Western Visayas, celebrate its rich heritage, and explore the cutting-edge innovations driving the region forward.