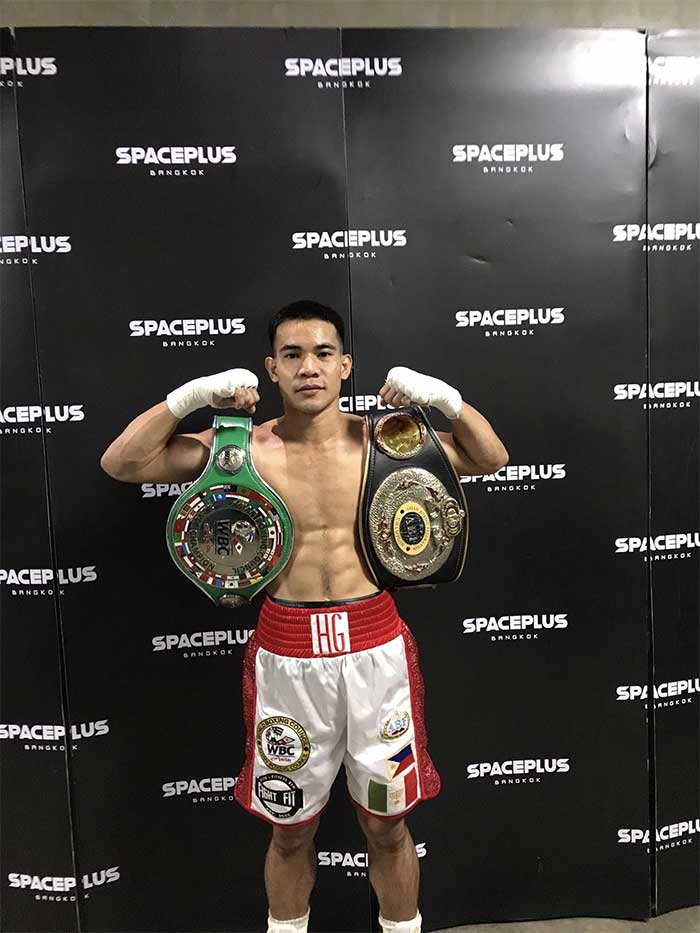 Bacolod City- E. B. Magalona native Herlan Gomez (11-1, 8 KOs) now has two Asian boxing championship belts.
This, after the 24-year-old Saraviahanon pride earned a new belt in the WBC Asia (World Boxing Council-Asian Boxing Council) silver bantamweight championship in Bangkok, Thailand Thursday night [Sept. 28].
Gomez, who is also the reigning Asian Boxing Federation (ABF) bantamweight champion, crushed the more experienced 40-fight veteran and former IBF Asia champion Komgrich Nantapech of Udon Thani, Thailand, in round one via KO of their main featured match on "Highland Boxing Show" at the Spaceplus Bangkok in RCA Plaza, a press statement from the town' PIO said on Friday.
The promising Filipino warrior was coached by Jomar Fajardo, Frank Jaro, Supanat Chanram, and Brico Langbay Santig.
Mayor Marvin Malacon, in a statement, congratulated Gomez who hails from Barangay Madalag E. B. Magalona.
"Our big congratulations to Saraviahanon boxing champ Herlan Gomez for your sweet victory in Thailand," Malacon said.
"Your hard work, passion, and grit to excel in your sports, and your fiercely patriotic desire to bring pride and honor to your hometown and to the whole country are awe-inspiring," the mayor added.
"Our hearts swell with pride as we share the news of your recent victory- as we always do in your previous wins. Thank you for giving us more reasons to celebrate the Saraviahanon athlete," Malacon added.
For his part, Gomez thanked Malacon and the people of E. B. Magalona for their prayers and strong support.
"Thank you very much to our beloved Mayor Marvin Malacon for your financial and moral support in all my boxing matches. Thank you as well to all my fellow Saraviahanon, especially the people of and my family in Barangay Madalag. I've always felt your love and support and I'm very grateful to all of you," Gomez said in a statement sent to the E. B. Magalona PIO.
Prior to the Sept. 28 match, Fightnews ASIA wrote that a WBC bantamweight belt for Gomez might get him into the WBC's top 40 bantamweights in the world.
Last August 26, Gomez also impressed boxing promoters and fans at his non-title fight in Dubai, United Arab Emirates with a round one KO win.
Before that, Gomez had four consecutive knockout wins in Bangkok.