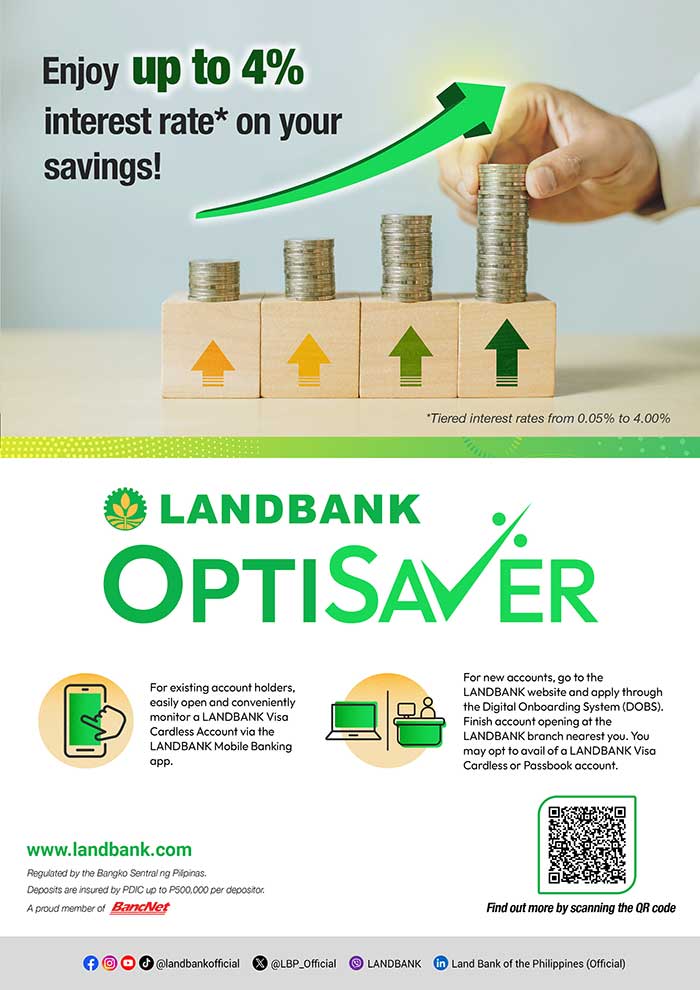 The Land Bank of the Philippines (LANDBANK) is giving clients a great reason to keep building their savings to reach their financial goals faster and safer.
Individual depositors can now get more out of their savings through the LANDBANK OptiSaver—a new premium savings account that offers tiered interest rates as high as 4%* based on average daily balance.
The LANDBANK OptiSaver offers to maximize savings with optimal interest rates as one of the financially rewarding deposit products out there – far surpassing the interest rates provided by traditional savings accounts.
"With the LANDBANK OptiSaver, your money doesn't simply rest, it works for you every single day. Whether you are saving for your dream home, a new car, a grand vacation, or a secure retirement, the OptiSaver can be your reliable partner in realizing these aspirations for you and your family," said LANDBANK President and CEO Lynette V. Ortiz.
As a savings account and not a time-bound investment product, the LANDBANK Optisaver has no tenor and allows account holders to withdraw cash at any time, which is especially important for emergencies.
"We are inviting everyone to open an OptiSaver account today and maximize the potential of your savings. Let your money work for you and grow your savings faster and safer with LANDBANK," President Ortiz added.
LANDBANK has also made it very convenient for clients to deposit funds to their OptiSaver account digitally or in-person via various touchpoints, to keep them motivated to continue growing their savings and get higher interest rates.
Interested depositors may open their LANDBANK OptiSaver account online via the LANDBANK Mobile Banking App (MBA) or by visiting any of the 606 LANDBANK branches and branch-lite units nationwide.
For more information about the LANDBANK OptiSaver, please visit the official LANDBANK website and social media channels, contact the nearest LANDBANK Branch nationwide, or call LANDBANK's customer service hotline at (02) 8-405-7000 or at PLDT Domestic Toll Free 1-800-10-405-7000.