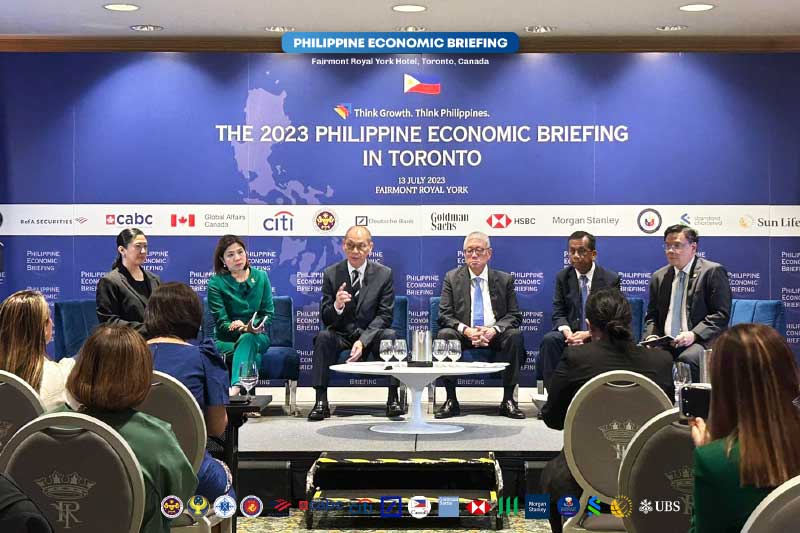 The economic team of President Ferdinand R. Marcos, Jr. hosted its eighth Philippine Economic Briefing (PEB) at the Fairmont Royal York in Toronto, Canada on July 13, 2023 (Eastern Daylight Time) to apprise Canadian investors of business opportunities in the Philippines in time for the President's second State of the Nation Address (SONA).
"We have uncharted waters to explore in terms of trade and investments in mutual areas of interest, including electronics manufacturing, machineries and electricity, mining, and agriculture," Finance Secretary Benjamin E. Diokno said in his keynote message.
Canada is the Philippines' 20th largest trading partner in 2022 with total trade reaching US$1.5 billion. Moreover, with nearly a million overseas Filipinos in Canada, cash remittances reached US$1.2 billion in the same year.
Canada is a global leader in clean energy with around 68 percent of its total electricity generation in 2020 sourced from hydro, wind, solar, and other renewable sources. In 2021, it emerged as the third largest producer of hydroelectricity.
The economic managers shared that just recently, the Philippines opened its renewable energy (RE) sector to full foreign ownership under the revised Renewable Energy Act Implementing Rules and Regulations (IRR).
"Canada, a global leader in clean energy, may benefit from the recent liberalization of the Philippines' renewable energy sector. Foreign enterprises may now participate in the country's RE sector, particularly in solar, wind, hydro, and tidal energy," Secretary Diokno said.
During his presentation, Bangko Sentral ng Pilipinas (BSP) Governor Eli M. Remolona, Jr. recognized the BSP's role in slowing climate change and proposed eleven strategies, one of which is encouraging banks to disclose the environmental, social, and governance (ESG) impacts of assets.
According to him, the BSP will work with scientists to develop a taxonomy of bank assets and examine whether these are beneficial or harmful to the environment.
In his welcome message, Alain Auclair, Managing Director and Head of Global Banking-Canada of UBS Securities Canada, acknowledged the Philippines' strong credit status and attractive fixed-income instruments amid global headwinds.
"As a testament to the Republic of the Philippines' growth story and credit, the sovereign successfully priced a triple-tranche US dollar 3-billion deal on the back of a 25-billion dollar peak order book just earlier this year, which marks the largest ever order book for any Southeast Asian borrower. It was a phenomenal outcome with the issuance achieving a negative new issue concession of about five basis points across the curve. The deal reaffirmed the strength of the Philippines' credit even in volatile times," he said.
Governor Remolona attributed the Philippines' outstanding recovery from the pandemic to the resiliency of the banking system that maintained around 16 percent capital adequacy ratio. Furthermore, Philippine banks have maintained an impressive 188 percent liquidity coverage ratio, exceeding the global standard of 100 percent.
Department of Budget and Management (DBM) Secretary Amenah F. Pangandaman presented an overview of the Philippines' national budget, which has been largely allocated to the Social Services sector––equivalent to roughly 38.1 percent of the total budget of PHP5.3 trillion.
On climate change, the DBM previously increased the budget for climate adaptation measures by 60 percent. The Department will also be pursuing the Green Public Procurement (GPP) Roadmap to integrate green choices in public procurement.
Meanwhile, National Economic and Development Authority (NEDA) Secretary Arsenio M. Balisacan presented on infrastructure development and investment in the Philippine socioeconomic agenda.
Secretary Balisacan said that the government will refer to the strategies outlined in the Philippine Development Plan (PDP) 2023-2028 aimed at sustaining high and inclusive economic growth, particularly through boosting infrastructure.
One hundred ninety-four high-impact Infrastructure Flagship Projects (IFPs) amounting to PHP8.3 trillion have been approved by the NEDA Board, which is chaired by the President.
During the panel discussion, Secretary Diokno elaborated on the Philippines' first-ever Medium-Term Fiscal Framework (MTFF), which he referred to as the north star that will guide the country towards fiscal consolidation for the next six years.
According to him, bringing back the National Government (NG)'s deficit-to-GDP ratio to 3 percent by 2028 will entail a combination of higher revenues and streamlining in government.
During the second part of the panel discussion, Rahul Hora (President and CEO of Manulife Philippines), Thi Be Nguyen (Executive Director of Canada-ASEAN Business Council), and Benedicto Sison (CEO and Country Head of Sun Life Philippines) shared their views on the Philippine economic development agenda and investment climate.
Sun Life and Manulife, leading Canadian life insurance companies, have been doing business in the Philippines for over a century.
According to Sison, the Philippines' opportunities for growth, resilient economy, and business-friendly regulatory environment are the main factors that make the country an attractive investment destination.
Sven List (Senior Vice-President, Corporate and International, Export Development Canada) said that they are exploring opportunities in the Indo-Pacific and are planning to open regional hubs in key markets next year.
"[O]ur strategy begins with industrial sectors where Canada has a proven record of expertise and the ability to deliver value fast. It happens to be the same sectors mentioned earlier today. Areas again like agrifood, infrastructure, and clean tech––areas in which countries like the Philippines are making important investments and where Canadian businesses are ready to offer goods, services, and their own investment," he said.
Member of Parliament (MP) for Mississauga Rechie Valdez, the first Filipina to be elected as a Canadian MP, took the opportunity to express her support for increased bilateral relations between the two countries.
"Since the announcement of Canada's Indo-Pacific strategy, our government has shown very clearly our commitment to working alongside the Philippines. And last month, our government announced that the new Indo-Pacific agriculture and agrifood office would be located in Manila," Hon. Valdez said in her closing remarks.
For his closing remarks, Gaurav Marwaha, Head of the Financial Institutions Group and Public Sector of Citi Canada, acknowledged the massive opportunity for companies to partner with the Philippines as it boosts its infrastructure program and sets up its first sovereign wealth fund.
"[T]his simply is the beginning of a strong alliance between the Republic of the Philippines and the investing public. Through our panel of speakers today, we have heard the message that this new administration aims to achieve for the Philippines an inclusive, resilient, and prosperous economy," he said.
Over 80 senior executives of Canada-based funds and corporates, as well as representatives of business groups, industry associations, financial community, and public sector attended the PEB.
The PEB in Toronto was jointly organized by the Bangko Sentral ng Pilipinas-Investor Relations Group (BSP-IRG), Department of Finance (DOF), BofA Securities, Canada-ASEAN Business Council, Citi, Deutsche Bank, Embassy of Canada in the Philippines, Goldman Sachs, HSBC, Manulife, Morgan Stanley, Philippine Embassy in Canada, Standard Chartered Bank, Sun Life, and UBS.