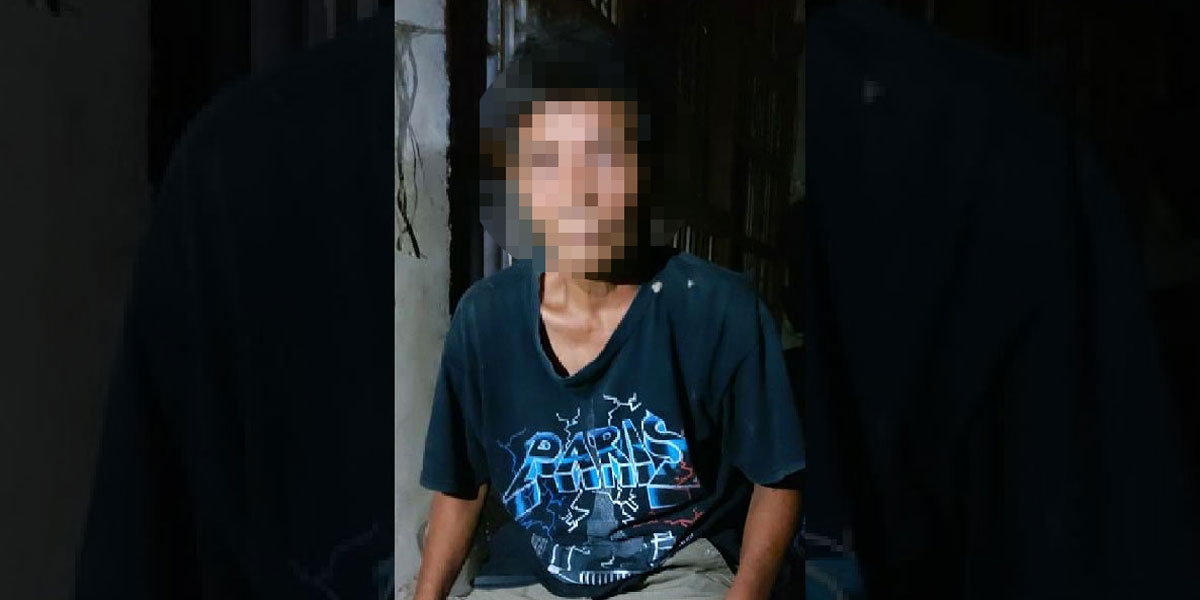 By Jennifer P. Rendon
Cornered in a local's house, a 66-year-old suspected New People's Army (NPA) member was left with no choice but to lay down her firearm and turn herself in to members of the Philippine Army's 12th Infantry Battalion.
Alias Bing, believed to be a member of the NPA's SYP Baloy Platoon, was collared following a 2-minute firefight at Barangay Dabong around 1:20 a.m. of March 16, 2021.
Soldiers conducting a pursuit operation were the ones who apprehended Bing.
The alleged female rebel, who hails from Barangay Araal, La Carlota City, Negros Occidental, has been reportedly holed up in the house of a certain Jose for five days already.
The clash in Dabong led to the seizure of a caliber .45 pistol with two magazines and 7 ammunition and components in making anti-personnel landmine.
Soldiers also recovered a hammock, two backpacks and a sling bag, assorted groceries, 10 meters electric wire, personal belongings, and subversive documents with high intelligence value.
Bing and the confiscated items are now in the custody of Janiuay Police Station.
The Iloilo Police Provincial Office (IPPO) surmised that Bing is part of an NPA platoon operating in the central portion of Panay that was responsible for the two bombing incidents in Janiuay and Lambunao towns in March.
The recent IED blast happened 9:45 a.m. of March 12 at Barangay Pughanan, Lambunao.
Members of the Lambunao Police Station were on their way to Panuran village to conduct a follow-up investigation on the March 11 encounter between Philippine Army troops and the rebels when the directional-type IED exploded.
Soldiers who were taking a rest near the blast site responded and fired at the rebels.
Two PNP personnel and a village official were slightly injured.
On March 3, suspected rebels also planted an IED at Barangay Panuran, Janiuay, Iloilo.
The incident happened at Barangay Canawili as members of the PNP Regional Mobile Force Battalion 6 (RFMB-6) were conducting clearing operation and road security for the groundbreaking ceremony of the Agro Forestry Support Facility sub project of the Department of Environment and Natural Resources (DENR).
Brigadier General Marion Sison, 301st Infantry Brigade commander, said the latest clash would be a big blow to the NPA's alleged recruitment and extortion activities given that high-intelligence materials were seized.
Sison also revealed that the rebels were planning to attack patrol bases, security forces and sabotage government projects in the area.
He cited that "the recovery of items needed for staging attacks such as components of anti-personnel landmine and electric wire would prove that the NPAs are out to sow terror."
He stressed that what the NPAs did was a blatant violation of Republic Act 9851 (Philippine Act on Crimes Against International Humanitarian Law, Genocide, and Other Crimes Against Humanity), which penalizes as a war crime the employment of means of warfare such as weapons, projectiles and material which are of the nature to cause superfluous injury or unnecessary suffering or which are inherently indiscriminate in violation of the international law of armed conflict.
But amidst this, "what's new?"
"For more than five decades, the Communist Party of the Philippines and its armed wing, the NPA, has not done anything except to sow terror and instill fear among the people. But more than ever, the government's resolve is ardent to end the local communist armed conflict," Sison said.
Despite everything, Sison said the government would accept rebels who are willing to lay down their arms in pursuit of peace.
The NPA would be celebrating its 52nd founding anniversary on March 29 which they mark with attacks on governments troops and installations and other key economic points.
On Monday, the IPPO already ordered its troops to be on alert as the NPA would hatch terror attacks to commemorate their anniversary.
But Colonel Gilbert Gorero, Iloilo police chief, said they are prepared to quell the local terrorist group from sowing terror in the province.
He said that all IPPO units were told to be on their toes, as the NPAs usually celebrate their anniversary by doing violent attacks.
"The Ilonggo cops are reminded to be extra cautious and alert in dealing with everyday police works particularly in high-risk areas," he said.
Based on IPPO's assessment, the towns of San Joaquin, Miag-ao, Igbaras, Tubungan, Leon, Alimodian, Janiuay, Lambunao, Calinog, Maasin, Lemery, and San Rafael are considered high-risk areas.
Gorero said that there are persistent reports that the NPAs are planning to launch attacks aimed at causing casualties among men in uniform.
The Iloilo top cop said the rebels also plan to set on fire or destroy construction or heavy equipment of companies undertaking government projects.