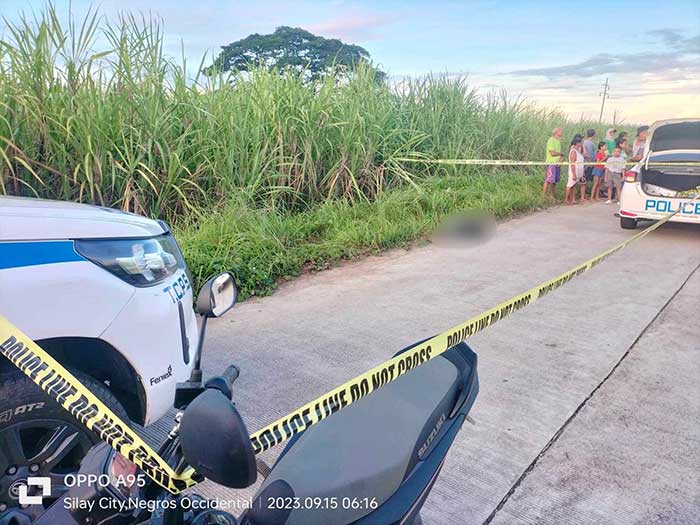 By Glazyl Y. Masculino
BACOLOD City – Police are looking into drunkenness as the motive behind the killing of an elderly man at Purok Asoc, Barangay Pinaginpinan, Kabankalan City, Negros Occidental last Thursday.
The fatality was identified as Alejandro Blanco, 61, of the said village.
His younger sister, Bella Blanco, 53, of the said village, was wounded.
Lieutenant Colonel John Joel Batusbatusan, city police chief, said Alejandro was chopping wood in front of their house when his younger brother and two cousins arrived, allegedly armed with bladed weapons.
The suspects identified as Alejandro's younger brother Jade Blanco, 27, and cousins Raffy Blanco, 48, and Rene Blanco, allegedly attacked him.
Bella tried to pacify them but Rene allegedly hacked her head.
Alejandro was declared dead in a hospital.
Raffy and Jade were arrested later that night, while Rene is still at large.
Batusbatusan said the suspects would allegedly usually act violently whenever they were drunk.
He said the family is willing to pursue the filing of charges against the suspects.
"May natabo naman dati pero gin pasensyahan lang sila," he added.
Meanwhile, an unidentified elderly man was found dead at Hacienda Otilla, Barangay Efegenio, Talisay City yesterday.
Major Wilfredo Benoman Jr., deputy chief of Talisay City Police Station, said the victim had a head injury, but it is not certain yet if it was from a gunshot.
Benoman said the victim might have been killed somewhere and was later dumped there, though gunshots were heard by some residents in the area.
As of this writing, the victim remains unidentified.