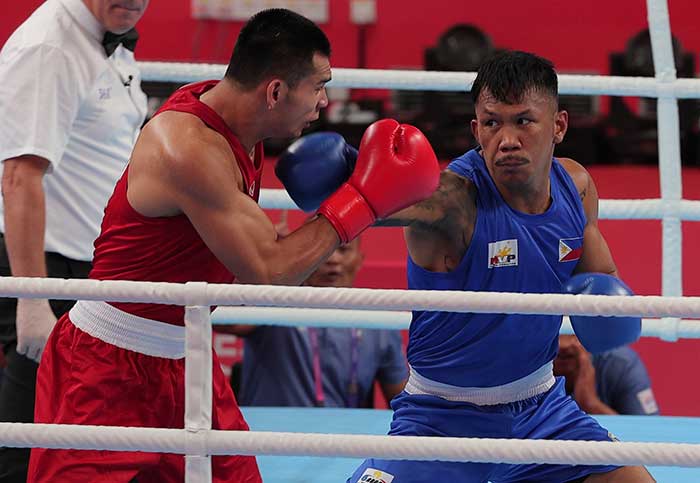 By Leobert Julian A. de la Peña
Eumir Marcial just pulled off a thrilling come-from-behind knockout victory to assure the Philippine delegation a bronze medal in the ongoing Asian Games men's boxing tournament last October 1, 2023, held in Hangzhou, China.
After facing an early deficit when he was called for a standing eight-count in the opening frame, the Filipino pug came back in the second round to knockout Weerapon Jongjoho to advance to the men's 80-kg division semifinal phase.
Marcial got tagged by a vicious right hook from the Thai which forced the match referee to call a standing eight-count with 2:11 remaining in the opening round.
Sensing that he was down in the scorecards by a wide margin, Marcial tried to salvage the remaining seconds of the round when he went aggressive and stalked Jongjoho until the bell rang.
However, the Thai still earned the nod of all five judges due to the crucial standing eight-count and headed to the second round with a comfortable advantage in the scores.
Just when Jongjoho thought he could crack Marcial, the Filipino professional boxer turned on the jets in the second round and inflicted damage every time he hounded the Thai with his pressure punches.
All hell then broke loose in the last 30 seconds of the second round as Marcial decided to throw heavy haymakers which started to land in Jongjoho's jaw.
With only 20 seconds remaining, Marcial found the perfect opening and unleashed a devastating right hook that floored the Thai.
Jongjoho tried to get back up as fast as he could but after the match referee saw he wobbled on his way up, he immediately waived off the fight and rewarded Marcial the KO victory.
With the impressive KO victory, Marcial will look to replicate his explosive performance in the semifinals when he faces Ahmad Ghousoon of Syria tomorrow to assure the PHL of at least a silver medal in the Asian Games.