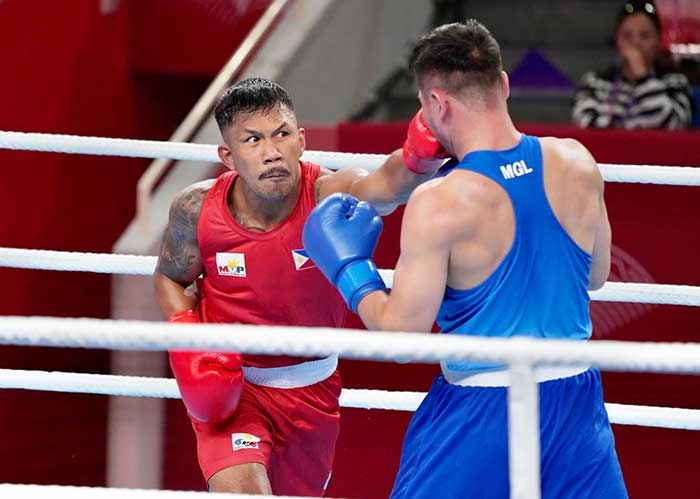 By Leobert Julian A. de la Peña
Eumir Marcial is off to a rousing start in the ongoing Asian Games men's boxing tournament after advancing to the next round last September 24, 2023, held in Hangzhou, China.
The Tokyo Olympic bronze medalist dominated Dalai Ganzorig of Mongolia in his opening bout to score an impressive unanimous decision victory.
All five of the judges gave Marcial the win in all three rounds and rewarded him with a sweeping 30-26 score.
Despite fighting in the men's light heavyweight event, a massive weight jump compared to his natural weight, Marcial still picked up where he left off and showed the world he was ready to fight regardless of the division.
Marcial showed an improved skill set against his Mongolian foe and kicked off his Asian Games tilt with a complete package display.
Criticized for his lack of defense during the last Tokyo Olympics, Marcial enhanced his guard treatment and raised his hands well every time he set up his attack.
When he backpedaled, Marcial still kept his gloves up high and was never reckless in leaving his head open to the Mongolian.
It was all Marcial in the fight as the professional boxer quickly punished Ganzorig in the first round with a barrage of right hooks.
Ganzorig adjusted in the second round and played his distance pretty well but Marcial countered back by rushing in and switching his offense up from a hook-oriented attack to an uppercut party.
Things got worse for the Mongolian in the second round when he suffered a point deduction due to a headbutt.
Ganzorig was in desperation in the third and final round as he saw himself down in the scorecards. He threw wild haymakers and hoped that one shot would connect to Marcial.
However, the Mongolian's hopes all vanished after Marcial scored a body punch knockdown with only 35 seconds left in the fight.