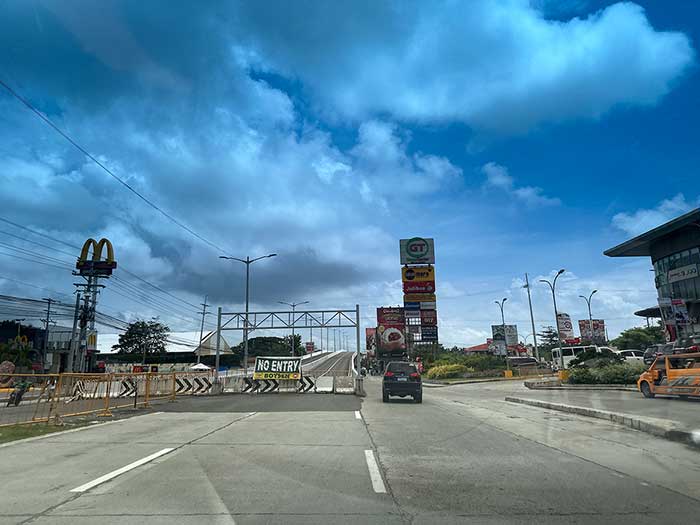 By Rjay Zuriaga Castor
Mayor Luigi Gorriceta of Pavia, Iloilo said the plan to reopen the P680 million Ungka flyover to light vehicles is a move that can ease the worsening traffic congestion in the area, especially during rush hours.
"Dako na ina nga bulig when it comes to traffic congestion dira kung aga kag kung hapon papuli […] At least may mga changes na nga gakatabo, may improvement," Gorriceta told Daily Guardian in a phone interview on Wednesday.
The 453.7-meter Ungka flyover, which straddles the Jaro district in Iloilo City and Pavia, remained closed to traffic since it was fully opened to commuters on September 5, 2022.
Prior to the announcement of opening the flyover to light vehicles, Gorriceta said that he previously talked with the Department of Public Works and Highways-Western Visayas (DPWH-6) and requested that it be opened during peak traffic hours.
"Ang repair sang flyover daw madugayan pa. While waiting kung ano abi ang mga steps nga pwede natun maubra […] One solution was nagrequest kita nga kung pwede mabuksan siya during rush hour," he said.
DPWH-6 director officer-in-charge (OIC) Regional Director Sanny Boy Oropel said in a press conference on Tuesday that the interior lane of the four-lane flyover will be opened to four-wheeled vehicles, including traditional and modernized jeepneys.
Orpoel said that they might open the flyover anytime this week and during rush hours only, particularly from 5 a.m. to 9 a.m. and 4 p.m. to 8 p.m.
Gorriceta expressed confidence in the safety of the flyover, citing comprehensive load testing conducted by DPWH-6.
"As to the safety, I think gin make sure man nila guro kay nagconduct man sila sang testing. Indi man sila siguro magdecide nga buksan kung butang ta sa risgo ang aton motorists," he said.
DPWH-6 conducted a static load test on the flyover in January 2023 and a dynamic traffic loading test in August.
Oropel said that after the two load tests, no vertical displacements were observed or monitored and no noticeable manifestations of any distress were spotted in the superstructure.
Gorriceta added that he is in close coordination with Jeck Conlu, head of the city government's Public Safety and Transportation Management Office (PSTMO), and DPWH-6 assistant regional director Jose Al Fruto for the enforcement of traffic management measures.
"May assistance gid [from our] traffic enforcers […] Mabulig kag masupport gid ang atun enforcers when it comes to enforcing sa mga regulated vehicles nga pwede lang masakasa sa flyover," he said.
The town mayor added that the local government of Pavia will pass an ordinance for traffic regulation in the area. The ordinance will be created with consultation from the Iloilo City PSTMO and DPWH-6 to ensure a consistent guideline.
When asked whether he would pursue legal charges against the United Technologies Consolidated Partnership (UTCP), the geotechnical consultancy firm tasked to formulate the plan and design of the Ungka flyover, Gorriceta said he would leave it to DPWH and the Ombudsman.
"Nakasulat naman kita sa DWPH nga national kag Ombudsman to investigate on what happened gid. Sila na yah ang proper agency nga mag investigate kung sin-o gid ang may kapaltahan,' he said.
The DPWH-6, during the press conference, said that "the one at fault" for the flyover is the "defective" design of UTCP.
Meanwhile, Iloilo Governor Arthur Defensor Jr. welcomed the reopening of the flyover for light vehicles as a positive development but emphasized the need to continue pursuing long-term solutions.
"Dako nga bagay to ease sa traffic in that part of the province. We are very thankful but again we will continue to pursue the long-term solution kung amo gid man na ang kinahanglan as it turns out. That is a good development for us," he said.
Defensor said he is planning to meet with the DPWH-6 officials to discuss the other developments and the rectification works of the flyover.