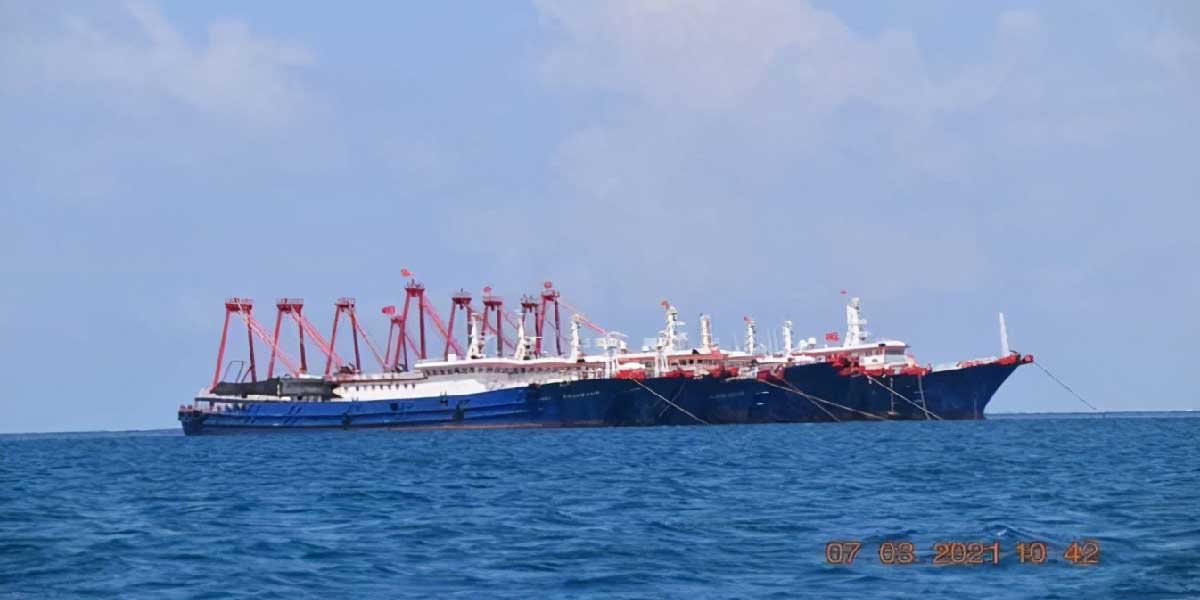 By Joseph B.A. Marzan
A Political Science professor in Iloilo suggested that the government should return to a "multilateral approach" in dealing with issues regarding the West Philippine Sea amid the recent spotting of alleged Chinese militia fishing vessels in the country's Exclusive Economic Zone (EEZ).
The international community in the past week expressed concern over the presence of around 220 Chinese fishing vessels moored at Whitsun Reef (Julian Felipe Reef).
The reef is part of the Philippines' 200-mile EEZ under the 1982 United Nations Convention on the Law of the Sea (UNCLOS).
The EEZ is not part of the country's national territory, but under the UNCLOS, the Philippines has an exclusive right to exploit economic advantages over the resources in these areas.
Ambassadors of the United Kingdom, Canada, and Australia have already sounded the alarm over the presence of these fishing vessels, which were refuted by the Chinese Embassy in Manila, calling their statements "irresponsible" in a tweet last Thursday, Mar. 25.
Reuters also reported on Thursday that President Rodrigo Duterte expressed the country's concern to the Embassy, while Vietnam urged China to respect maritime sovereignty.
A few days earlier, on Mar. 21, Department of Foreign Affairs (DFA) Secretary Teodoro Locsin Jr. confirmed on Twitter that he had already sent a diplomatic protest to China, upon the advice of National Security Adviser Hermogenes Esperon.
Prof. Brian Ventura, chairperson of the University of the Philippines Visayas' (UPV) Division of Social Sciences, told Aksyon Radyo Iloilo on Saturday that the presence of the vessels is "alarming but not surprising", saying that this strategy was not new as it started in the mid-1990s to the early 2000s.
Ventura also explained that these fishing vessels were "civilian in nature but military in character," adding that fisherfolk aboard these vessels were trained by China's People's Liberation Army Navy (PLAN) and are part of the chain of command despite not bearing arms.
He added that it was a good strategy by China because if the Philippines were to attack, we "may be blamed for starting militarization."
He also said that while there was no "global police" to confront China over its maritime aggression, the Philippines may rally other countries to support us through strengthening ties, but also noted how other powers were "second-guessing" their moves related to China.
"We cannot force China to listen because we don't have a 'global police'. In this case, the work of other countries is just to pressure China, to appeal to China, to have sanctions against China. The other powers are second-guessing the act of really pushing China out of the area because they found it too hard or they found it too problematic that there are many parties involved," Ventura said.
Ventura said that escalations would only happen if there was movement by the DFA or the Department of National Defense (DND) on the ground, but that "movement" may also only refer to verbal or diplomatic actions.
He also cited the possibility of calling out China on its other issues, such as reported human rights abuses in Xinjiang and Hong Kong.
"It would still depend on other movement on the ground, but it's also possible that it's just the actual verbal warning from other powers to stay where they are and not to increase tensions further or to move backward or negotiate on other areas such as the issues in Xinjiang and Hong Kong. They have a lot of things to play on because China is also a big power and it also has other big interests versus other powers. They can move on other areas with either Europe, Japan, or the United States," he added.
He suggested that the Duterte administration should return to a multilateral approach exercised by former Presidents Fidel Ramos and Benigno Aquino III, citing the country's "weakness" in jumping to bilateral relations especially towards a major global power like China.
Ventura also noted the country's 2016 victory over China in the Permanent Court of Arbitration over the country's territorial and EEZ claims, which China still does not recognize as of this time.
"One thing that is not in line with the Duterte administration is the jump to the automatic bilateral. Philippines is at a disadvantage against China because it is a minor power. Many studies and experiences have shown that a multilateral approach is where we got our strength. When we filed our case, it was already multilateral because we used institutions and we used a court," he explained.
He also suggested strengthening our external defenses, the navy, and presence in the area, which would require long-term planning, commitment of more resources and more consistency in our policy from the executive and legislative, and more funding for the military.