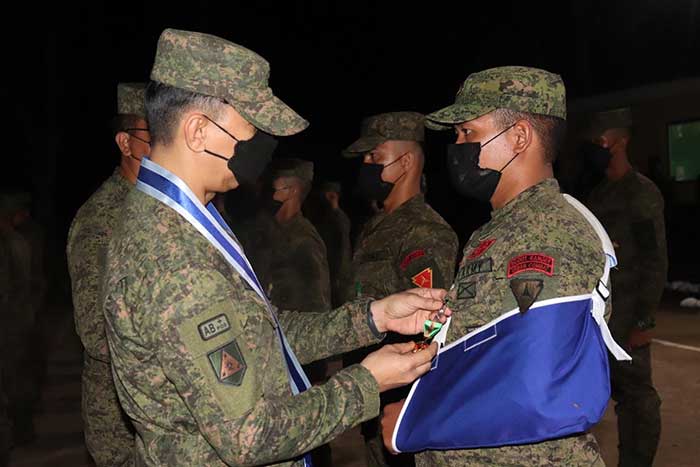 By Glazyl Y. Masculino
BACOLOD City – The Army on Thursday turned over to their families the remains of the two members of the New People's Army (NPA) who were killed in an encounter that occurred in Barangay Amin, Isabela, Negros Occidental last March 9.
The Guihulngan City, Negros Oriental and Isabela town Task-Force to End Local Communist Armed Conflict facilitated the turnover of the remains of alleged NPA hitman Virgilio Tamban alias "Bedam", under the Leonardo Panaligan Command, Komiteng Rehiyon Negros, Cebu, Bohol, and Siquijor (LPC, KR-NCBS); and Ben Jack Rueles alias "Ka Yuhan", an alleged member of the Regional Striking Force (RSF), to their families.
The two fatalities, along with their other comrades, engaged in a firefight with the Army while the latter was monitoring the area amid reports on the presence of unidentified armed men reportedly targeting a civilian mistaken for a government informant.
The police were supposed to serve an arrest warrant for illegal possession of firearms and ammunition against Tamban when they also figured in the encounter.
The clash also left two soldiers and another rebel identified as Robert Ancino wounded, while Randy Claud was captured.
Ancino and Claud were found in the area after the brief firefight, according to the Army.
On March 11, Major General Benedict Arevalo, commander of 3rd Infantry Division (ID) awarded Military Merit Medals with Spearhead Device to 24 troopers of the 62nd Infantry Battalion (IB) Scout Platoon led by 1st Lieutenant Kim Hope Barquilla, at the 62nd IB headquarters in Barangay Libas, Isabela town.
Arevalo, along with Brigadier General Inocencio Pasaporte, commander of 303rd Infantry Brigade (IBde), recognized their heroism during the combat operations that yielded to the neutralization of two rebels.
Meanwhile, Ka JB Regalado, spokesperson of LPC-NPA, in a statement, said they salute "Ka Bidam," and "Ka Yuhan," who were both exemplary revolutionaries, despite their young age.
Regalado alleged that as per investigation of witnesses in Barangay Amin, Tamban and Rueles were captured and killed by the Army and police after their house was allegedly ransacked, contrary to the Army's claims that the two were killed in an encounter.
Regalado said the NPA team was sent to the area to conduct mass work, to investigate and resolve complaints among the residents in the area.
However, Pasaporte maintained that an encounter happened, as two soliders were even wounded when they retaliated against the enemies.
"Pirmi man na nila gina siling na wala encounter to justify, and twist the story to gain support, pero wala man may mapati sa ila," Pasaporte said, adding that the soldiers only responded to a report from concerned citizens.