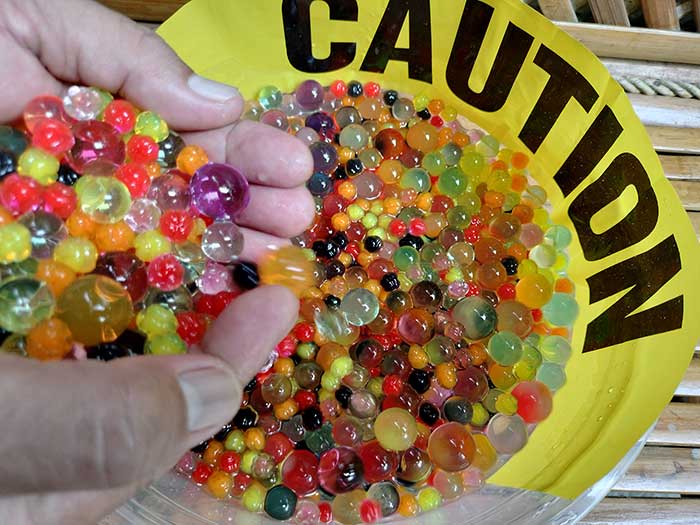 Following the recall in the US of some water bead toys due to ingestion, choking and intestinal obstruction hazards, the EcoWaste Coalition called on the  Food and Drug Administration (FDA) to put out a public health warning against  similar toys sold locally often without legal authorization and labeling information.
The non-profit group, which is championing children's right to safe toys among other related advocacies towards a zero waste and toxics-free society, requested the FDA to issue an advisory in the interest of protecting the health and safety of children from such hazardous toys.
"The tragic death of a 10-month old child in the US due to the ingestion of water beads should serve as a wake-up call for everyone to act against the uncontrolled sale of this hazardous toy in the market, including in online shopping sites," said Aileen Lucero, National Coordinator, EcoWaste Coalition.
As summed up by the US Consumer Product Safety Commission (CPSC), "if a water bead is ingested, it expands and can pose ingestion, choking and intestinal obstruction hazards inside a child's body, resulting in severe discomfort, vomiting, dehydration, and a risk of death to a child."
Last September 14, the CPSC and the toy company Buffalo Games LLC  announced the recall of some 52,000 units of Chuckle & Roar water beads after receiving reports of beads ingestion resulting in serious injury and death.
As indicated in the recall announcement, Buffalo Games received one report of a 10-month-old child's death from swallowing the recalled water beads in July 2023 in Wisconsin. Another report showed that a nine-month-old child was seriously injured in November 2022 in Maine after swallowing water beads, which caused an intestinal obstruction requiring surgery to remove them.
The CPSC and Buffalo Games advised consumers to immediately stop using the recalled water beads and to keep them away from children.
On May 4, 2023, Health Canada published an advisory warning "water beads may pose life-threatening risks to young children" due to aspiration, choking and injury hazards associated with such toys.
"Water beads and products containing them should be kept out of sight and reach of children," Health Canada told parents and caregivers.
Worried about the reported cases of water beads ingestion, particularly in the US, which may require surgical intervention, the EcoWaste Coalition on June 8, 2021 wrote to the FDA requesting the agency to issue a public health advisory regarding this threat to children's health and safety.
As early as 2015, the Australian Competition and Consumer Commission (ACCC) had alerted consumers to the dangers of water beads after several children ingested them and required  hospital treatment to have them removed.