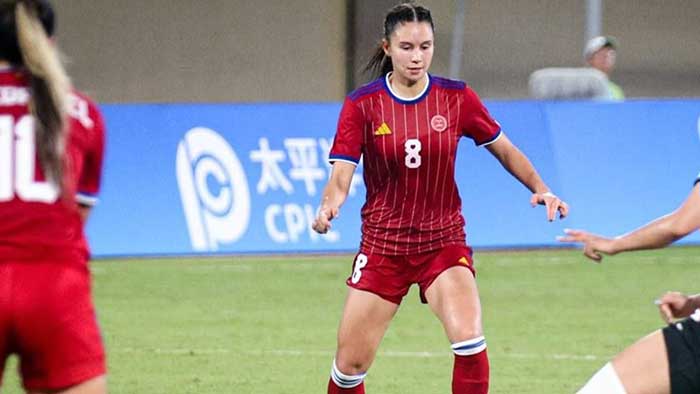 By Leobert Julian A. de la Peña
The Philippine Women's National Football Team handed Myanmar a demolition exhibition, 3-0, to advance to the quarterfinal round of the Asian Games last September 28, 2023, held in Hangzhou, China.
An early conversion from star striker Sarina Bolden and a game-sealing brace from Sara Eggesvik led the way for the Filipinas.
It was a dominant outing for the PHL national team as they held most of the ball possessions from start to finish, unloading a number of clean attempts generated from their stellar offensive execution.
Bolden drew first blood for the Filipinas 19 minutes into the first half after a penalty kick was rewarded when he got fouled inside the penalty box.
Holding a 1-0 advantage, the Filipinas' confidence was further boosted when they were able to ramp up their offensive intensity and had many chances to increase their goals.
That golden moment then came 15 minutes after the second-half whistle sounded as Eggesvik found the back of the net that doubled the Filipinas' lead.
It was a three-personnel connection that made Eggesvik's goal possible. As Jessika Cowart threw a clearance kick from the midfield, Bolden then delivered a header assist that put the PHL up 2-0.
The Filipinas officially shut the door on Myanmar at the 6:33 mark as Eggesvik completed her brace off a goal from the left side of the penalty box area.
PHL's victory also marked its first quarterfinal appearance in the Asian Games since 1958 and will be looking to achieve more as they get ready for the tournament's final 8 stage.