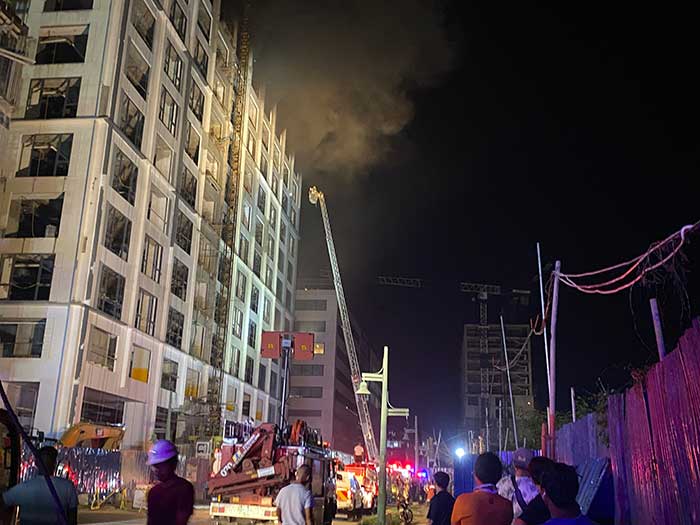 By Mariela Angella Oladive
A fire erupted on the 11th floor of one of the buildings of the Iloilo Business Park of Megaworld in Mandurriao, Iloilo City on November 4.
One Enterprise building is located near Carelon Global Solutions Iloilo and another ongoing construction project.
According to one of the construction workers, the blaze started around 5:50 p.m. The fire raged for over two hours before authorities declared it under control at 8:17 p.m. and eventually confirmed the fire was out at 8:39 p.m.
Iloilo City Fire Marshal, Supt. Melanie Habawel, said in an interview with Daily Guardian that the fire escalated to the fourth alarm due to the mistake in the initial report they received that the fire occurred at Carelon, a BPO company.
They were anticipating there might be a lot of workers inside, which, on the other hand, helped significantly, especially with the machinery and manpower, considering that the fire scene was on the 11th floor.
A total of 16 firetrucks, one rescue truck, and three ambulances were deployed in response to the incident.
According to Habawel, the estimated initial structural damage is around P510,000 and they are still anticipating it to go higher once the establishment submits its itemized affidavit of loss.
The fire affected approximately 255 square meters of the 11th floor, which is equivalent to 25 percent of the total floor area of the building.
The damaged area was reportedly used as a temporary storage room for plumbing materials.
Meanwhile, the investigation is currently focusing on two key aspects: the source of the open flame, which may be linked to the presence of cigarette butts in the area, and fire transfer, possibly resulting from welding activities on the building's upper levels.
As the investigation into the cause of the fire continues, the BFP has cordoned off the fire scene on the 11th floor for the safety of construction workers and to preserve evidence.