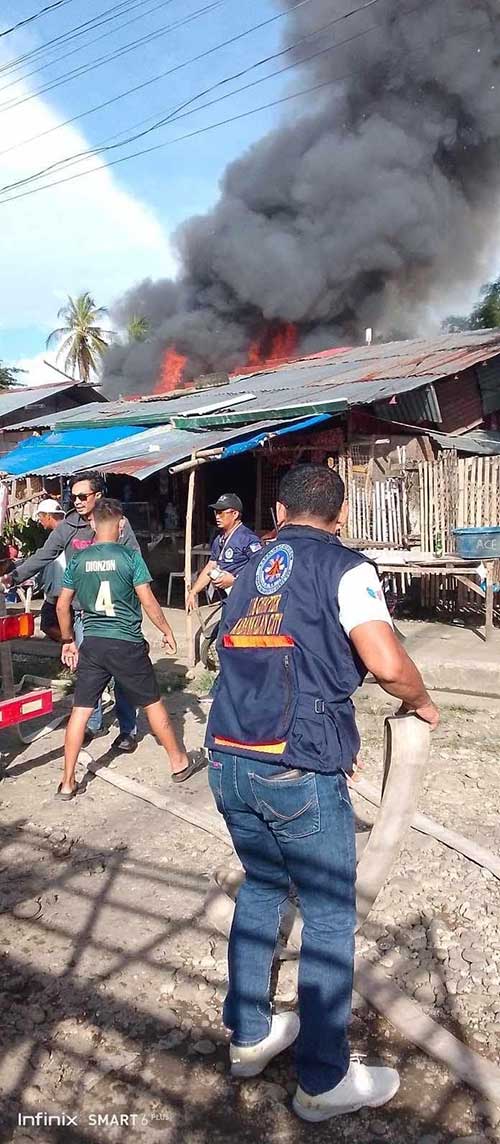 By Glazyl Y. Masculino
BACOLOD City – Twelve houses, including the rest house of a village chief, were razed by fires in Negros Occidental on All Saints' Day, November 1.
Of the figure, 10 houses were hit in Kabankalan City, and one house each in Isabela town, and Bacolod City.
In Kabankalan City, eight houses were destroyed, while two others were partially damaged in a fire that broke out in Purok 6, Barangay 1 around 3:10 p.m.
Fire Officer 2 Alfie Gravela, arson investigator of Kabankalan City Fire Station, said that most of the houses were made of light materials and were very close to each other.
"Ikit-ikit ang mga balay," he added.
A resident suffered minor burns when he helped to stop the fire.
Gravela said that 13 families composed of at least 58 individuals were affected in the fire. They were temporarily sheltered in a covered court near the barangay hall, he added.
He said that the fire left an estimated P75,000 worth of damage to properties, based on their operation manual.
The Bureau of Fire Protection (BFP) has yet to determine the origin and cause of the fire.
The BFP declared fire out around 4:30 p.m.
Meanwhile, the local government has extended financial assistance of P2,000 each to the affected households.
In Isabela town, the rest house of re-elected Barangay Libas Captain Brenda Fernandez was destroyed in a fire in the said village on that same day.
The village chief was not at home when the incident happened.
Police Captain Ar-jay Dangarang, town police chief, said they are waiting for the report from the BFP to check if the fire incident was accidental or intentional.
Dangarang said the village chief has not reported any threats on her life that could be linked to the fire incident.
He said the election day in the town was peaceful, with no election-related incidents.
The rest house was made of light materials, and the fire left an estimated P100,000 worth of damage. No injuries were reported.
In Bacolod, a house was also gobbled by fire in Barangay 30.