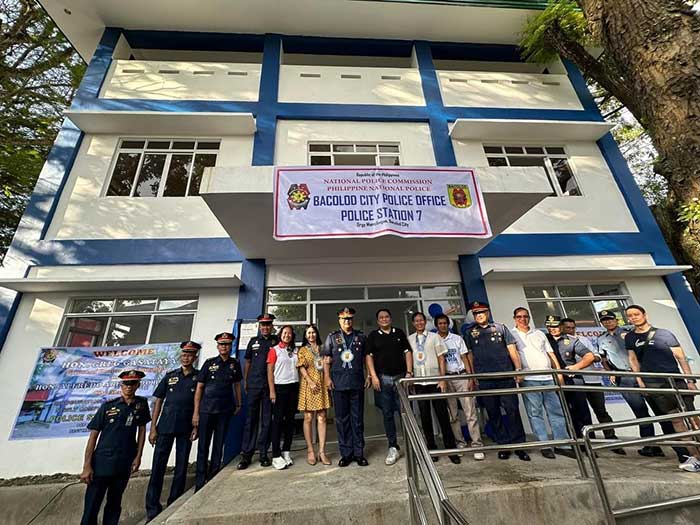 By Glazyl Y. Masculino
BACOLOD City – Police Station 7 is the first to have a standard Philippine National Police (PNP) building here.
Police Brigadier General Sidney Villaflor, director of Police Regional Office (PRO)-6, Cong. Greg Gasataya, Retired Police Brigadier General Primitivo Tabujara Jr., city's anti-drug program coordinator, representing Mayor Alfredo "Albee" Benitez, Police Colonel Noel Aliño, director of Bacolod City Police Office (BCPO), and the Department of Public Works and Highways (DPWH) led the inauguration of the new three-storey building of Police Station 7 in Barangay Mansilingan Wednesday.
In his message, Gasataya said that the request for the construction of a new police station came from then-station commander Police Major Elmer Bonilla, who is now the head of Police Station 1.
Gasataya, who is a resident of Barangay Mansilingan, said that he is grateful to the DPWH for the materialization of the project that can benefit the community and law enforcement.
He said that Police Station 7 deserved it because the personnel are also doing their best to ensure that the people are protected and peace and order is given the utmost priority.
Aside from the infrastructure, Gasataya said that the DPWH will install monitoring systems and 32 surveillance cameras in strategic areas that would aid the police in maintaining peace and order.
Police Captain Andy Ofalia, head of Police Station 7, said that they were delighted with the development.
Ofalia said the city government donated a 400 square meter lot for the construction of the new police station, which is situated a block away from the Barangay Hall of Mansilingan.
The police station has been occupying a lot owned by A.L. Jayme Elementary School for several years now.
Ofalia said they will soon be transferring to the new building once connections of the utilities are completed.
He said that he has no idea about the plan for the old police station, but the BCPO might use it as an office for another unit.
Meanwhile, Aliño said that the edifice stands as a symbol of progress and commitment. "It's a testament to the unyielding dedication of our law enforcement officers and the unwavering support of the community," he added.
Aliño also expressed his gratitude to those who made it possible.
"Our gratitude knows no bounds," he said.
He said that it is not just a building, but a place where justice is upheld, lives are protected, and the bonds between law enforcement and the community are strengthened.
"May this new police station stand as a beacon of hope and symbol of our shared commitment to safety and justice," he added.