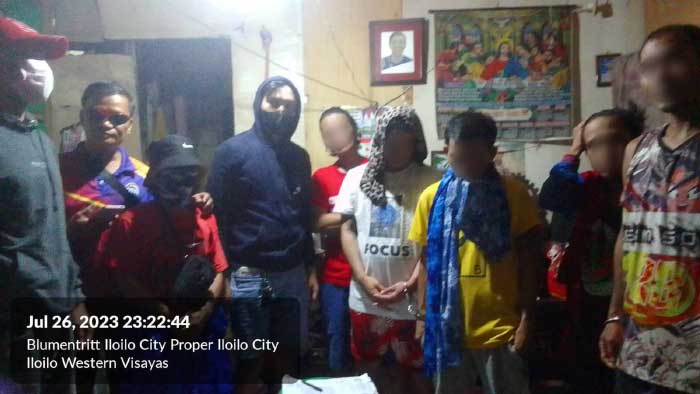 By Jennifer P. Rendon
Five brothers have taken the "walang iwanan" slogan to a different level.
This, after they were all arrested in a police anti-narcotics operation evening of July 26 in Barangay Zamora-Melliza, City Proper, Iloilo City.
Police identified the siblings as Joven Billones, 35; Jessie Billones Jr., 43; Joebert Billones, 39; Jobel Billones, 35; and Jamer Billones, 23. All are residents of the said place.
Members of the Iloilo City Police Office-City Drug Enforcement Unit (ICPO-CDEU) and the Iloilo City Police Station 1 nabbed the five for allegedly conniving to sell a sachet of suspected shabu for P3,500.
When police frisked them and scoured the area, they found six more sachets and a knot-tied plastic bag containing suspected shabu, a black pouch with P600 cash, a digital weighing scale, an improvised water pipe, a roll of aluminum foil, five aluminum strips, and other non-drug items.
Lieutenant Colonel Antonio Benitez Jr., CDEU chief, said the seized drugs weighed around 60 grams and were valued at P408,000.
Benitez said all suspects are on the Barangay Drug Abuse Council (BADAC) list of illegal drug personalities.
But Benitez said the operation's main target was Jovan while his brothers were arrested for allegedly conniving with him during the operation.
Jovan is also on the CDEU and the Philippine Drug Enforcement Agency (PDEA) watchlists.
He led the group and sourced their supply from contacts in Metro Manila, Iloilo City, and Bacolod City.
There were also persistent reports of the Billones brothers' involvement in illegal drugs.
In a police operation more than a week ago, a resident came to Benitez and intimated that he would help to collar the suspects.
Jovan has been arrested for a drug-related offense.
Jessie had also been arrested for a drug-related offense under the old Republic Act 6425 (Dangerous Drugs Act of 1972).
Just like Jovan, Jamer was also arrested for violation of RA 9165 (Comprehensive Dangerous Drugs Act of 2002) in 2018 but was released in 2022.
Jobel was also nabbed for possessing a gun replica and Joebert for attempted murder.