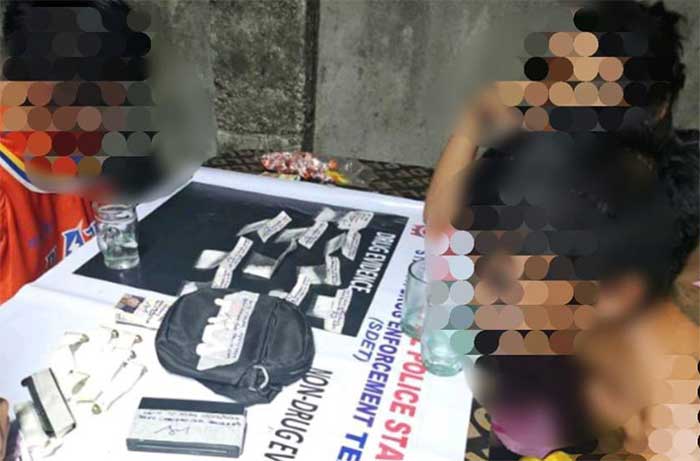 By Jennifer P. Rendon
Five persons were arrested in separate police anti-illegal drug operations in Pavia, Iloilo.
Police arrested Christian Erudistan, 19, of Barangay Mali-ao, Pavia and Ian Lachica,  21, of Purok 4, Pavia were collared at 7:40 p.m. on Oct. 1 at Barangay Ungka 1.
In another buy-bust operation, members of the Pavia Municipal Police Station nabbed Kean Alvin Espinosa, 28, and Cris Boy Caballero, 27, both of Barangay Cabugao, Sur, Pavia; and Caballero's live-in partner Chrislene Matira, 20, of Barangay Bolong Este, Sta Barbara town.
They were collared in a buy-bust operation at Espinosa's place at around 1 a.m. on Oct. 2.
Major Dadje Delima, Pavia police chief, said the two operations are not related and the two groups are not associated with each other.
They arrested Erudistan, who was the subject of the buy-bust operation after he handed a sachet of suspected shabu to the police poseur buyer. He also yielded a lighter, a knife, and a mobile phone.
Seized from Lachica were several sachets of suspected shabu weighing around 30 grams and with a standard drug price of P204,000.
He said the two had no previous drug-related arrests.
But Erudistan had been detained before for several theft incidents in Pavia.
Meanwhile, Espinosa was the main subject of the second buy-bust operation.
The trio yielded around 42 grams of shabu valued at P285,000, a digital weighing scale, and a magazine for a caliber .45 pistol loaded with 7 ammunition.
Delima said they tried to look for the gun in the vicinity of the scene but did not find any.
All three suspects denied that the magazine belonged to them.
Both Espinosa and Caballero had previous drug-related arrests.
All five suspects will be charged with violation of Republic Act 9165 (Comprehensive Dangerous Drugs Act of 2002).
An additional case might be charged against Erudistan for knife possession and the three suspects in the Cabugao Sur buy-bust after a magazine with ammunition was seized from their possession.