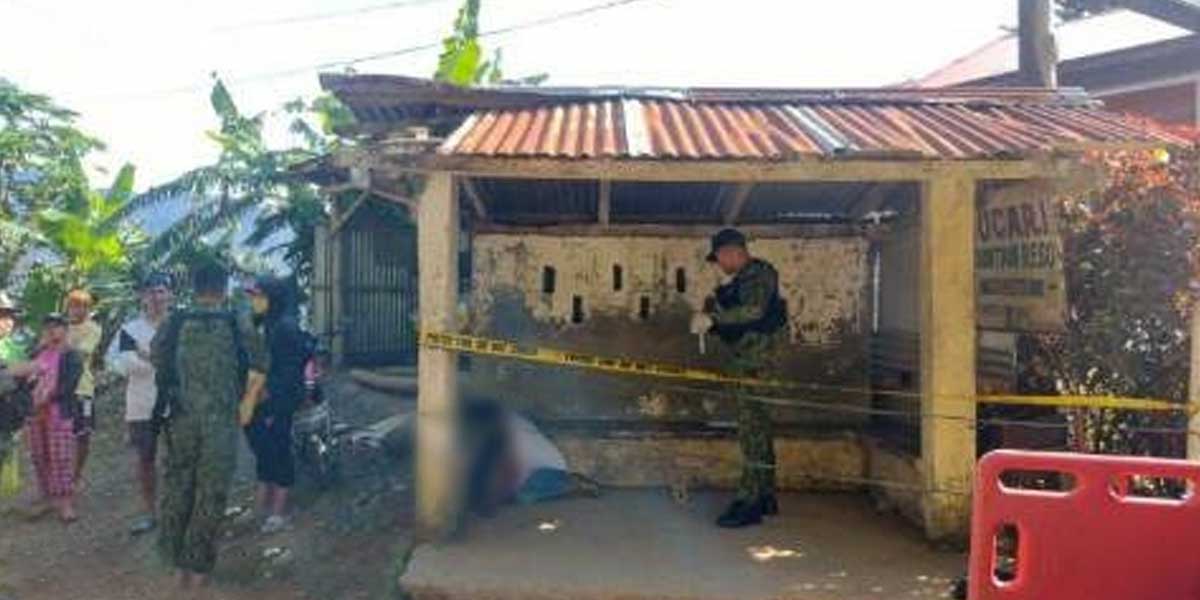 By Jennifer P. Rendon 
A single gunshot to the left temple cut short the life of a 59-year-old former barangay captain of Leon, Iloilo.
Teresa Amualla, ex-barangay chairperson and current barangay treasurer of Cabolo-an village, Leon, died in a gun attack around 6:30 a.m. of June 14 at the nearby Barangay Bacolod, some 20 kilometers away from Leon town proper.
Members of the Municipal Disaster Risk Reduction and Management Office (MDRRMO) took Amualla to the Rural Health Unit where she was declared dead on arrival.
According to reports, the victim left home early that day.
Her son-in-law drove her to Barangay Bacolod, some 4 kilometers from Cabolo-an, to catch a ride to the town proper.
Lieutenant Danilo Noca, Leon police chief, said Amualla intended to submit some documents to the Liga ng mga Barangay office.
She was sitting in the waiting shed when motorcycle-riding men stopped around 10 meters away.
Noca said the backrider alighted from the motorcycle, approached the victim, and pumped a bullet into her head.
At that time, a 16-year-old boy was sitting next to her.
The teenager was availing of the nearby Piso Wi-Fi (retail Wi-Fi) when the incident happened.
After the gunfire, the teenager immediately scampered.
Noca said the gunman did not run after him. He instead boarded the getaway vehicle and sped off.
Responding police recovered two ammunition shells from the crime scene.
Investigators are still at a loss for what could have triggered the killing.
"According to her daughter, the victim had not received any threat," Noca said.
Amualla had no known enemies. She also told her family her intention not to run for any elective post and would just concentrate on looking after her grandchildren.
Noca said that they found no possible connection between Amualla and the local rebels.
While she used to lead a hinterland village, Noca said she allegedly had no partisanship with the military or police and the New People's Army (NPA).
"But we're still gathering more information that might shed light into this incident," Noca said.
Meanwhile, authorities are yet to announce if the incident could be considered election-related.