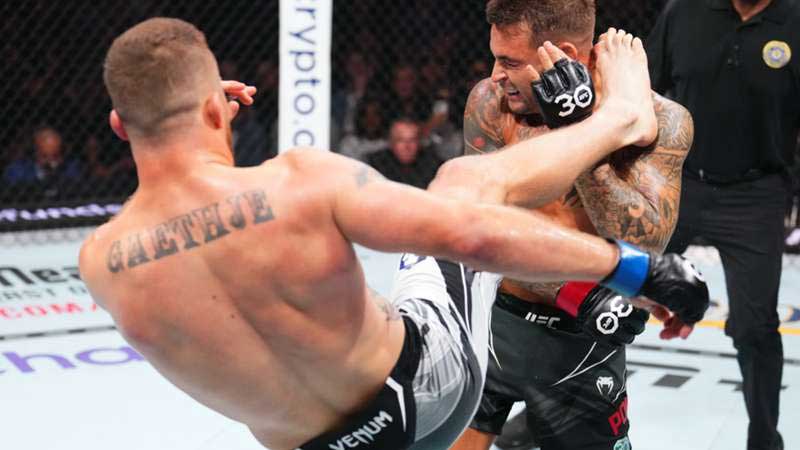 By Leobert Julian A. de la Peña
Justin Gaethje settled his revenge on Dustin Poirier in style after knocking him out in the second round of their UFC 291 main event matchup last July 30, 2023, held at the Delta Center in Salt Lake City, Utah.
Gaethje perfectly timed a solid head kick with 4:03 remaining in the second round that instantly floored Poirier to raise the UFC BMF championship belt.
It was an action-packed opening round as Poirier was able to grab some momentum after hitting Gaethje with several right hooks to the head.
Poirier followed his game plan well and forced a stand-up exchange fight but was still cautious with his timings to avoid Gaethje's power.
Gaethje stormed back in the last 20 seconds of the fight after finding his range to throw some hooks but Poirier's solid guard defense saved him some points entering the second round.
As the official match bell rang to kick off the second round, Gaethje landed several shots at will and showed some urgency to level the scorecards.
Poirier countered with back-to-back left hooks but Gaethje had his biggest moment of the fight after sending in a huge head kick for the victory.
Match referee Herb Dean was quick to dive to the floor to protect Poirier from incoming hammer fists and waved his hands to call the match off.
Despite losing his last title bid at the hands of Charles Oliveira, Gaethje's BMF win will boost his chances of another shot for a world title.
"This is awesome, but other than legacy it doesn't do anything near as much as a world championship belt. I think this catapults either one of us, the winner of this fight, into that title fight, and that's all that means right there," said Gaethje after the win.